Inspired by the country's history and culture, a new wave of Egyptian clothing is emerging.
For decades, designers from all over the world have used ancient Egypt as a reservoir of inspiration.
In return, these designers have left their imprint on Egyptian clothing styles.
It is this rare blend of Arabic clothing heritage with western cuts that gives Egyptian designers such a unique display on the global stage.
In this article, I'll share with you a lot of interesting facts about Egyptian fashion, and:
How Egyptians dress in 2021
What not to wear in Egypt
Top 20 Egyptian fashion designers right now
And, last but not least…
Six Egyptian clothing trends of 2021
Without further delay,
How Do Egyptians Dress Nowadays?
Although dressing restraint is still expected in rural parts of Egypt, modern Egyptians wear clothing styles that differ only marginally from those in Europe.
However, what makes Egyptian clothing different, is the embedded practical side.
Because of the country's hot climate, ancient Egyptians had to wear light fabrics most of the time.
Even now, in 2021, most Egyptian designers make garments from vaporous linen, to confer a unique style while retaining comfort and easiness to wear.
Egyptian Female Clothing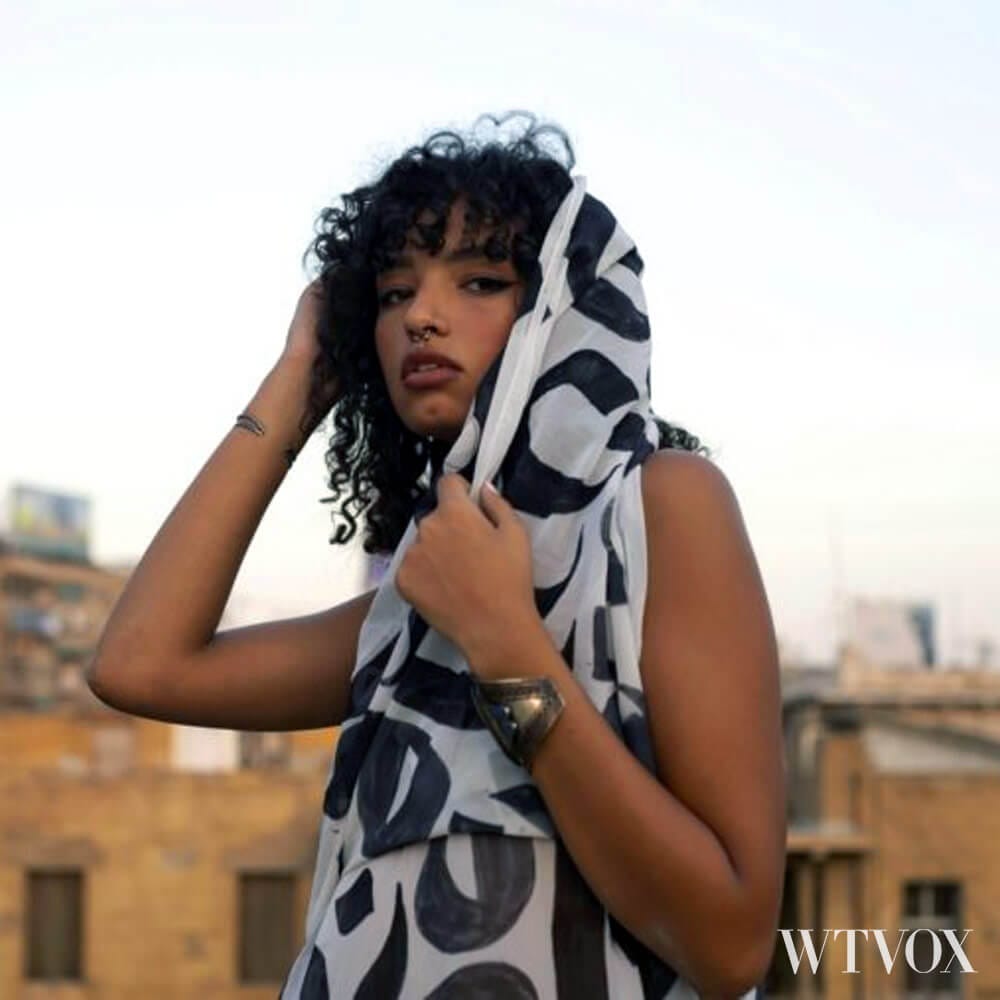 Although 90 percent of Egyptians are Muslim, dressing to match one's religious views is not enforced in Egypt.
However, dressing decently is still important to Egyptians, and many women wear Arabic clothing that covers all parts of their bodies.
Also, while unlike in most western countries where gender boundaries are blurring, Egyptian clothing retains notable differences between male and females styles.
Women also wear hijabs to cover their necks and heads, or a niqab, usually used to cover just the face and head.
And yet, it is not uncommon to see Egyptian women without head coverings.
Egyptian Male Clothing
There are no religious restrictions on men's attire in Egypt.
For that, younger males wear polo shirts, jeans, and tracksuits.
Adult Egyptian men wear western clothing styles, from business suits at work to trousers and short-sleeved shirts for everyday wear.
However, older men and certain Muslim devouts refuse western-style clothing and do not wear clothing that clings to the body.
Their garment of choice s galabiya, a loose-fitting ankle-length robe, along with a turban, skullcap, or a fez.
The kaftan is also worn, an ankle-length coat with large sleeves, either belted around the waist or over the galabiya.
What Not To Wear In Egypt
There are many types of garments that you cannot wear in Egypt, but overall, it depends on gender, as you'll see below.
For example, do not walk the streets of Cairo in your shorts and flip-flops.
Or, even worse, don't ever go to a shopping mall in your swimming outfit, as you'll be arrested right away.
Top 20 Egyptian Fashion Designers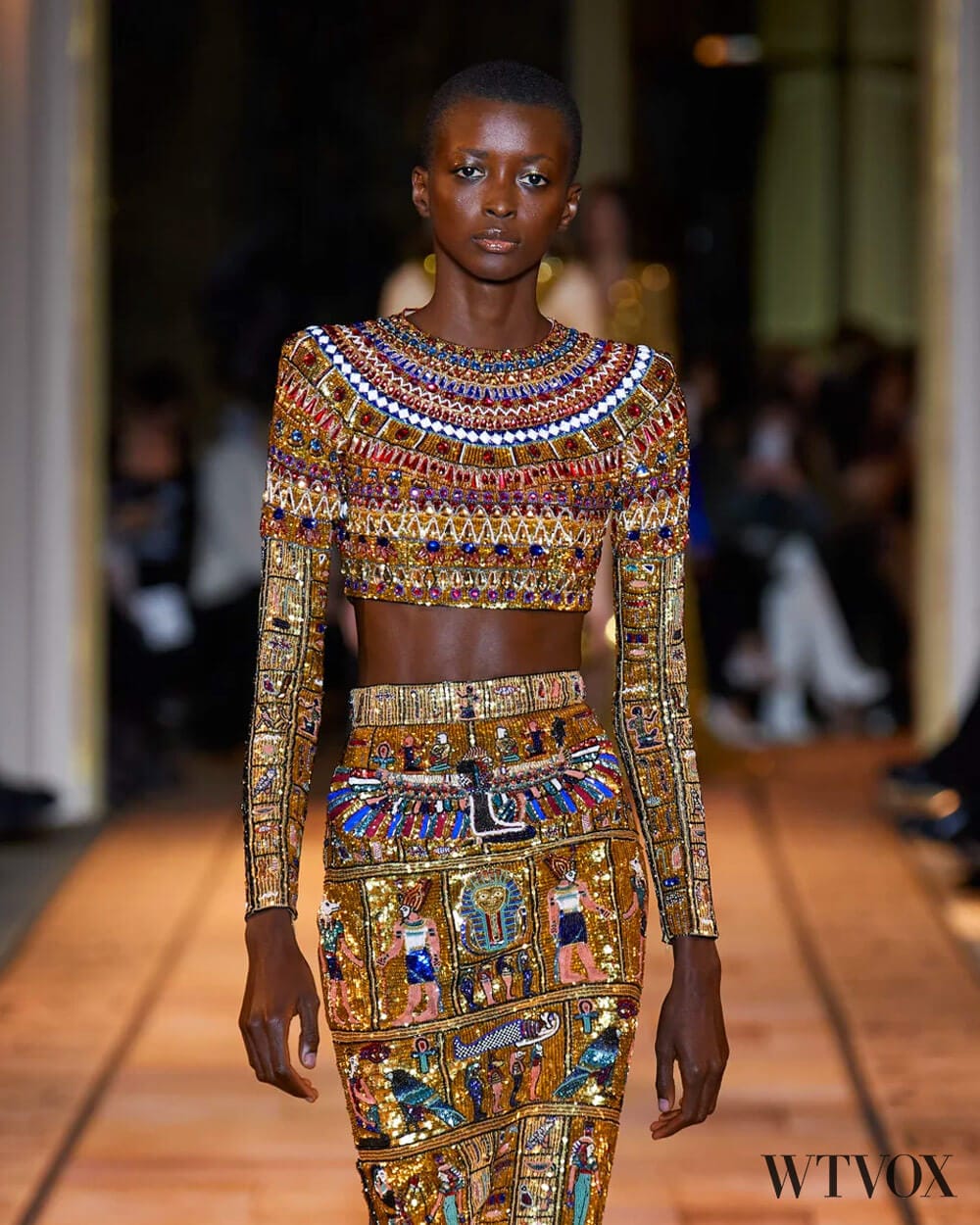 Egyptian designers are already making waves in international fashion shows and events.
Farida Temraz comes to mind, as one of the more famous representatives of Egyptian fashion.
Upholding many Egyptian cultural elements, Farida's evening gowns were described by critics as rare embroidered haute-couture.
However, it is not just Temraza carrying the Egyptian fashion flag.
There is Fufa, Okhtein, and many other Egyptian designers endorsed by international celebrities such as Beyoncé.
Here are the best 11 Egyptian fashion designers right now with amazing creations on sale, and loved for their stunning designs that put Egypt on the global stage!
1. Farida Temraz
Since the debut of her Autumn/Winter 2014 collection at Paris Fashion Week, Farida Temraz's label, Temraza, has quickly risen to fame.
Her fashion line got the 1st place awarded from Paris Fashion Week & Best Female Couture Designer in New York Fashion Week.
In fact, Farida is the only Egyptian designer that has been awarded such outstanding awards for her fashion line.
The designer captures the hearts of many with opulent Egyptian clothing, touches of gold, and excellent use of drapery.
The gowns are a balanced combination of opposites, boasting sleek construction paired with panels.
However, the brand also often pays homage to its cultural roots by seeking inspiration from ancient Pharaohs.
2. Kojak Studio
Fashion designer Mohanad Kojak's semi-couture creations exude a contemporary vibe, constructed with the techniques of a couturier.
What started as a small passion grew steadily into an empire that Kojak established through his impeccable dressmaking skills.
Mohanad's pieces are a true work of art because they're not just pretty, each piece tells a story.
He also doesn't care about gender roles, which is a plus, in the current context of gender neutral clothing.
The designer became a name in Egyptian fashion 2018, with growing influence in gender-free couture.
He also enjoys combining unexpected elements like soft tulle with sturdy gold embellishments for his gowns.
Kojak's designs are structural, often heavily embroidered with sequins, embellishments, and beading — exquisite and full of grandeur.
Overall, I love his online store, I personally think it is one of the most polished of all designers on this top 20.
3. Okhtein
Okhtein translates to 'sisters' in Arabic, was founded by siblings Aya and Mounaz Abdelraouf.
Designed in various embossed leather and crafted in brass, Okhtein bags embody the art of craftsmanship and Egyptian artistry.
With high-profile buyers such as Beyoncé, Gigi Hadid, and Kris Jenner, Okhtein is becoming the next 'Made in Egypt' designer bag.
4. Malak El Ezzawy
Malak El Ezzawy is a world-renown Egyptian designer that has dressed many celebrities.
Yet, each Malak El Ezzawy creation is completely different than the other.
Malak's designs are a true definition of elegance and style and were featured on some of the biggest fashion covers in the region.
5. Fufa
Taking inspiration from her grandmother's extensive collection of fabrics, Farah El Ashiry launched Fufa, a brand described as Egyptian bohemian.
At the time of its establishment, Farah knew little of garments and fabrics; yet her passion kept her going.
"You'll find that my garments are straightforward. Yet, each print is one of a kind," said the designer.
6. Norine Farah
Born and raised in Alexandria, Norine Farah has studied in Milan before falling in love with fashion.
Norine gets her inspiration from the beauty of patterns and colors of fabrics, and her creations include custom-embellished gowns and body-hugging looks.
The designer insists not to make traditional Egyptian clothing, or couture that's too traditional:
"I want to create what I feel is beautiful. Whoever wants to trust my taste does."
After a successful appearance at the Cairo Fashion Festival in 2014, Norine was selected to represent Egypt at the World Fashion Week in Paris.
Shortly after, she was nominated as Huawei Egypt's brand ambassador.
7. Dina Shaker
Shaker founded her first fashion brand 'SPICY' in 1990, in Alexandria.
Inspired by ancient Egyptian clothing, Shaker wants her brand to empower women, as a voice of their strength and independence.
Her collections are always brimming with personality and character, with items varying from dresses to trousers.
Nowadays, Dina Shaker's beautiful pieces are sold throughout the world, from Cairo to London, and Beirut to Paris.
8. Zahan
Egyptian designer Hana Othman is the mastermind behind Zahan, the brand has taken the Egyptian fashion industry by storm.
Hana was the first Egyptian designer to participate at the St. Petersburg Fashion Week in Russia, where she presented an haute couture collection for children.
So you can match your dress with your daughter's dress!
9. Soha Murad
Soha Murad is another Egyptian fashion designer who turned heads at the last GFF.
Murad treats each piece as an entirely separate project, an approach that helps her to create unique pieces for her clients.
Some of Soha's most acclaimed creations were the dresses made for Injy El Mokaddem and Ola Roshdy.
10. Amina K
Founded by Amina Khalil in 2009, Amina K is a local fashion brand inspired by traditional Egyptian clothing for pharaohs.
After studying fashion design, Khalil spotted an opportunity in the fashion scene for 'ethnic-inspired garments', made from local textiles by Egyptian artisans.
Most creations are handmade by artisans in local workshops across the city of Cairo.
Amina K's collection includes a range of women's wear, accessories, eyewear, and men's shirts.
The pieces are unique and can be integrated into everyone's individual style.
11. Zaam Designs
Since the launch of Zaam Designs in 2012, Egyptian designer Ahmed Azzam has been designing leather bags and clutches with a luxe touch and a vintage finish.
Every bag is handcrafted in Zaam Designs' workshop in Cairo to ensure pristine form and quality.
The brand's creations are recognized for their angular and sturdy silhouettes.
Moreover, each piece is finished in Zaam Designs' signature adornment of gold-plated brass, detailing a golden peacock logo.
12. Christine Massarany
All of Massarany's semi-couture pieces are one-of-a-kind.
Uniquely made, you can be sure that whatever piece you choose to wear from the collection, you will be the only one owning it.
Christine Massarany's debut collection was influenced by nature, earthy tones, and women's silhouettes, suffocated by a hard and industrial setting.
13. Maison Yeya
A creation of Yasmine Yeya, Maison Yeya is a modern Egyptian fashion brand that has impressed a global audience with its mesmerizing gowns.
Yasmine's creations feature sculpted drapes and polished craft, constructed in luxurious bridal textiles such as duchess satins and silk chiffons.
Maison Yeya gowns are designed to celebrate modern elegant women that are classic as well.
Interestingly enough, Yeya has never imagined that one day she's going to become a celebrated fashion designer.
She was making dresses just for fun till it hit her this could be her career.
Nowadays, Maison Yeya is on a promising journey on dressing brides around the world.
14. Nour Ibrahim
Nour Ibrahim is a rising Egyptian fashion designer exploring original cultural lands in the art of fashion design.
Nour's tailoring expresses sharp edges and unique Egyptian styles inspired by French luxury haute-couture, and with a touch of cultural heritage.
Ibrahim's designs are tapping new lands in the art of Egyptian clothing design.
'Luxury' and 'French, are the two key aesthetics that one can instantly catch in his designs.
Overall, Ibrahim's tailoring expresses sharp edges and cuts, quite unique to the classical Egyptian craftsmanship.
15. Plum Plu
Marketing themselves as premium-luxury, Plum Plu came into the scene with the aim of becoming the trend-setters of the local fashion scene.
The designer redefines the concept of feminine clothing by infusing Arabic creativity into each piece.
16. Deana Shabaan
If you're a fan of simple designs and effortlessly beautiful gowns, then Deana Shaban is your 'to-go designer'.
Deana picks specific colors and blends them together in a non-traditional way.
The combination confers the designer with a special style that stands out from a mile.
In her view, the designer believes that there's an individual gown for every woman.
Therefore, no piece must be identical or repeated and we love the dresses she designs for Tara Emad.
17. Opio
Designing clothes for women-on-the-go, Opio aims to make you more fashionable without you having to jump through hoops.
With soft fabrics and relaxed fits, all pieces feel effortlessly comfortable.
Moreover, Opio's creations look incredibly chic.
18. Sara Onsi
Sara Onsi is one of the young Egyptian fashion designers who stand out from the lot.
In a short period of time, Onsi name has become a synonym for glamorous gowns, as well as trendy and stylish dresses.
To top it all, her bridal wear is flawless as Onsi's wedding dresses make that 'once in a lifetime' event ever so special.
19. The King's Mother
Fresh off the farm, The King's Mother is a brand new Egyptian clothing brand, that focuses on making blazers for women.
The designer combines elements of men's and women's couture to make beautifully cut and perfectly tailored blazers.
Some of the latest pieces include cutouts, fringe, feathers, and even sequins, alongside more traditional elements.
20. Diva Designs
As international fashion brands started introducing and integrating modest wear or 'hijab-friendly' garments over the past years, some local fashion designers launched brands for the same niche.
One of these brands is Diva Designs, a hijabi-friendly fashion brand.
Founded by Aya Magdi and Aya Saeed, this Egyptian brand creates clothing inspired by modern cultural trends.
Moreover, the brand is not confined to hijab-friendly styles, since most of its pieces can be integrated into everyone's wardrobe.
I love Diva Designs' collections, in particular for their maxi dresses and kimonos, perfect for the summertime.
Top 6 Egyptian Clothing Trends In 2021
At the start of the article, I've talked about the west influencing Egyptian clothing styles.
The following six trends are a perfect example of how these two cultures blend, to create something unique.
1. Hats With Hijabs
As weird as this might sound, in the heat of the Egyptian sun you'll need an extra layer of covering, even if you're already wearing a hijab.
One of the daring stylistic experiments this year is wearing a hat with the hijab, demonstrating how to be 'bold and beautiful'.
2. Satin Skirts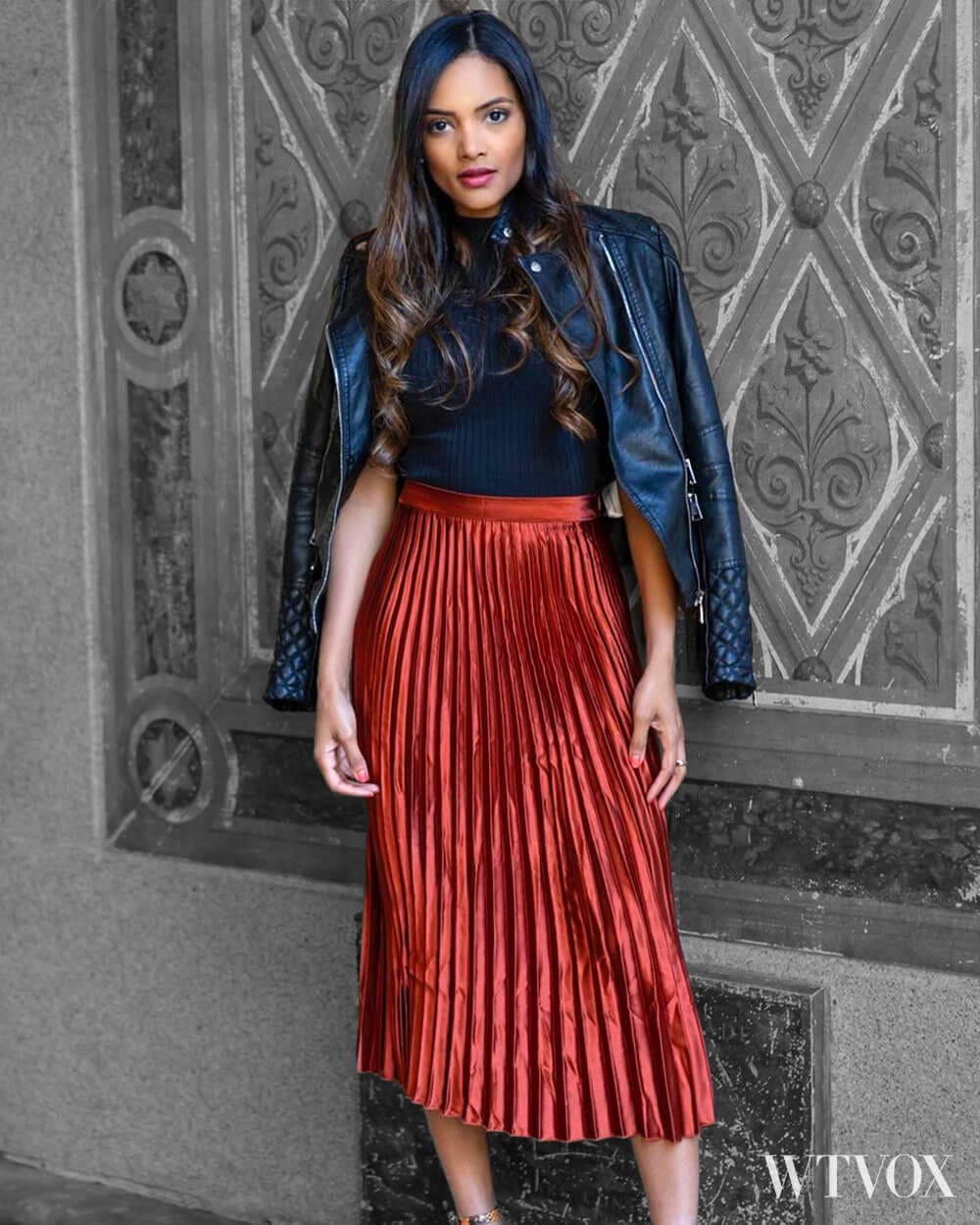 While linen has been a key material used by Egyptian designers for millennia, satin is slowly taking over.
Sating is excellent in the summer if you want to enjoy the sun but without getting too hot.
Skirts in the satin fabric are another favorite trend this year.
3. Mixed Print Patterns
Single color outfits have been the standard for hundreds of years in Egyptian fashion.
However, over the last 2 years, we've seen the demand for colorful outfits growing.
This year, Egyptian designers took the trend to another level, by launching printed, colorful patterns.
Interestingly, the printed pattern's trend is adopted by men as well, not just women.
4. Velvet Abayas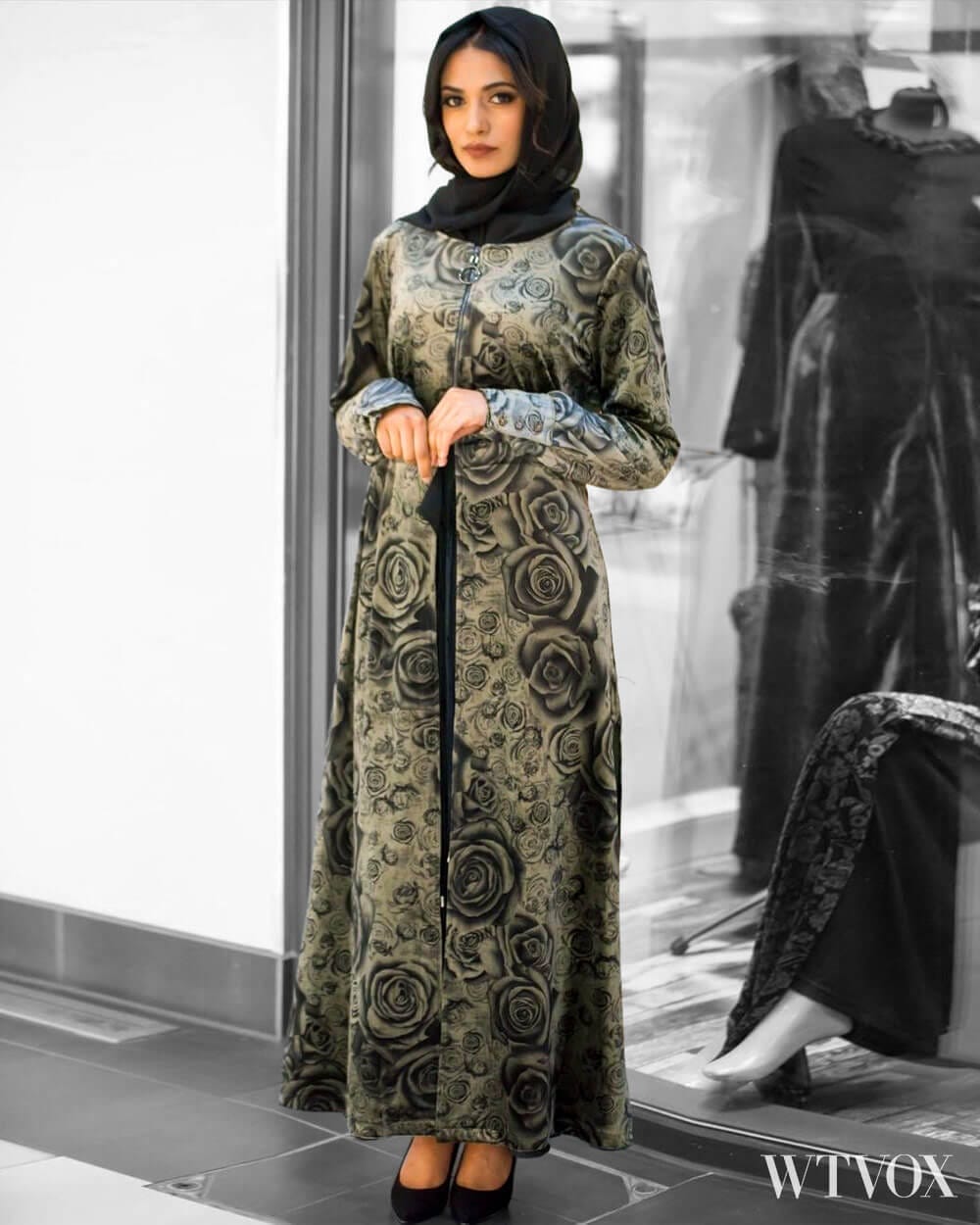 Velvet abayas, in vibrant colors, are back in fashion this year.
Also known as the 'hijab trend-makers', abayas are hailed as staples of Egyptian fashion.
This year, if you're looking to create that elegant look, go the extra mile and choose a striking color.
5. Neon Yellow
Speaking of striking colors, do you know why is yellow and neon colors used in advertising and street signs?
To grab attention very fast.
In 2021 we see the use of yellow and neon colors in Egyptian clothing, as a way to grab attention and stand out.
Even more interesting, we see the use of neon colors in Egyptian clothing for men, not just women
6. Embroidery And Traditional Jewellery
Egyptians have always loved to adorn their bodies with all kinds of elegant pieces of jewelry.
Queen Cleopatra remains a perfect example of ancient Egypt's glamorous fashion style.
Aside from her unequaled beauty, history records often mention her obsession with gold ornaments, embellishments, beads, and gemstones.
Cleopatra's image remains one of the most powerful sources of inspiration in the times of modern fashion and haute-couture collections.
Weekly Newsletter. Sign Up Now!
Celebrities, designers, and latest news in sustainable fashion.
WTVOX – 'Voicing the Future of Fashion'
For lightning-quick updates delivered to your inbox subscribe to our newsletter.
For the latest innovations in fashion, beauty, and lifestyle follow us on social media: Instagram, LinkedIn, Facebook, Twitter.
And, to interact with thousands like you, join your tribe on the Future of Fashion Group.