Looking for gender neutral clothing inspiration?
In this article, I'll introduce you to 14 gender neutral clothing designers rocking the stage in 2021.
But, before we start, let's remember that not too long ago, there was a clear distinction between male and female clothing styles.
However, over the last few years, the line has started to fade away, enriching the industry and the world we live in.
Time to unveil 14 most popular gender neutral clothing brands in 2021.
Without further ado…
1. Agender
With unique pieces of powerful vibes that blend stereotypes of masculine and feminine traits, Agender's gender neutral clothing creations are flawless.
Inspired by the collages of art, Agender's pieces are superb pieces of fluid fashion.
I find Agender perfectly suited for a typical day at the office, or to mix and match for the upcoming cold and windy winter.
2. Telfar
Telfar is a gender neutral clothing brand launched in New York in 2005, under the motto 'not for you, for everyone'.
Now globally recognized, Telfar's genderless collection are always a success at New York Fashion Weeks.
While the brand's rare collections still include some leather belts and hats, the Telfar is shifting towards cruelty-free clothing.
The brand's latest creations of cozy hoodies and vegan leather shopping bags are pointing to the sustainable direction the designer is taking.
3. Bethnals
Experts at bespoke gender neutral clothing, Bethnals redefines the idea of gender.
A UK-based design studio, Bethnals is inspired by the incredibly diverse cultural center that is the beautiful city of London.
Bethnals brings to the scene of gender fluid fashion a relaxed look that adds a contemporary spin to the classic jean staple.
4. Nicopanda
Nicola Formichetta, the founder of the New York-based Nicopanda, has grown her iconic brand to unexpected popularity for a casual wear brand.
Nicopanda's gender neutral clothing designs stand out through unique cuts and vivid colors.
I love, in particular, the designer's hoodies and beautiful tulle dresses.
And, I find it amazing that more recently, Nicopanda has started to cover classic suites and colorful prints.
5. Chelsea Bravo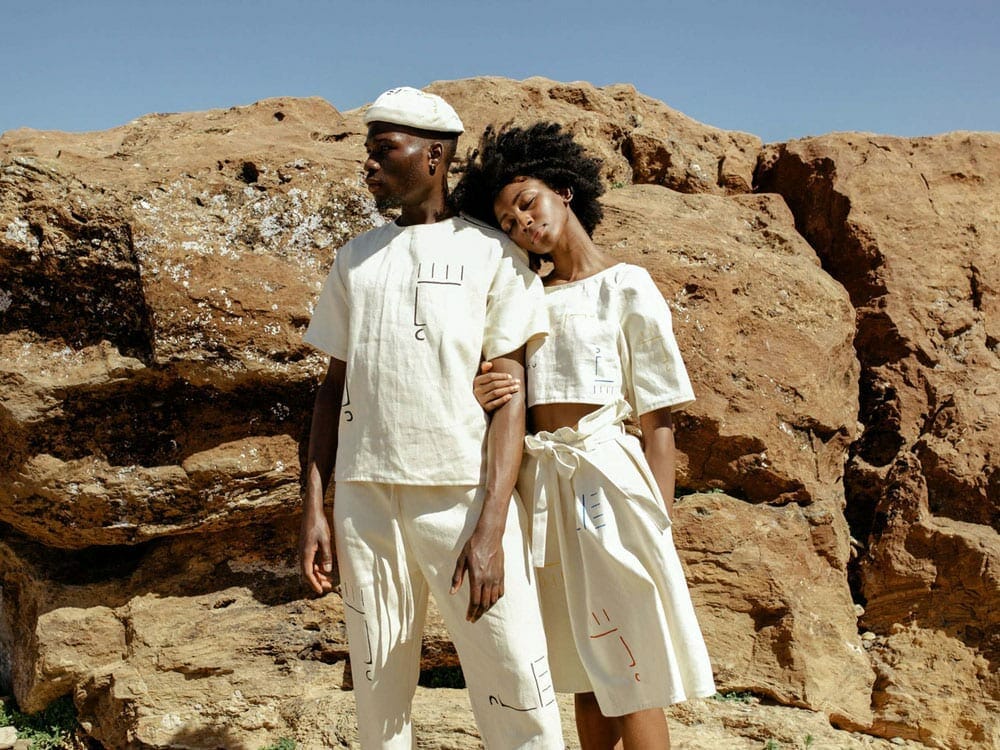 Chelsea Bravo was born in Brooklyn New York, but she's now a London-based designer.
To begin with, Chelsea began designing menswear but, in time, she eased into the gender neutral clothing world.
Chelsea's unique creations put the focus on the body's motions and its fluidity within the clothing.
Also, the designer is making use of natural materials such as organic cotton and hemp.
When asked, Chelsea Bravo stated that she intends to create garments that connect style with sustainability, for a more mindful fashion landscape.
6. ZED Seattle
Zed is a Seattle-based gender neutral clothing label founded by the designer Ty Ziskis.
Just like Chelsea Bravo, Zed started off by creating couture for the male gender only.
However, with growing understanding and experience, Zed Seattle creates gender neutral clothing that attracts not only men but women as well.
For Zed, good design doesn't have to be complicated:
'Simplicity can be beautiful as well,' said the designer.
This designer believes that gender doesn't have to be defined by clothing, and that's why his collections are ideal for any human being, on any occasion.
7. I And Me
Jessica Gebhart, the founder of I And Me, was in the fashion industry for over 10 years before she decided to give a shot at starting her own gender fluid clothing brand.
Back in 2015, Gebhart has launched her first collection of premium denim.
According to the designer, 'I and Me' label puts the accent on inclusivity and equality in fashion.
The brand's recent creations focus on gender neutral clothes and styles, aiming to make this world a better place.
8. One DNA
With the lead designer based in New York, a city that supports the genderless and gender-fluid movement, 'One DNA' has become the leading house of gender neutral clothing styles.
At times when finding unisex clothing seemed like a tough task, One DNA came to the rescue by breaking the gender barrier fashion styles.
The brand's gender neutral clothing ethos is reflected in all clothing lines of apparel, suitable for all types of body, sizes, and shapes.
Weekly Newsletter. Sign Up Now!
Celebrities, designers, and latest news in sustainable fashion.
Before we move to the next 5 designers, here's one of the most asked questions relating to gender free clothing:
"When it comes to genderless clothing, gender free clothing, unisex clothing and gender neutral clothing, what is the difference?"
There's no difference. It is all about clothing beyond the sex assigned at birth.
You can encapsulate them all under the term gender-free clothing and it is all about personal identity, attitude, and behavior.
It is about expressing who you truly are, free from social constructs.
9. Eckhaus Latta
Eckhaus Latta is a gender neutral clothing brand that puts a special accent on animal print and textures.
To clarify, each creation brings its own unexpected elements, such as panels, lurex, or even longhair sheepskin (sourced responsibly).
10. Rad Hourani
Rad Hourani is a fashion designer, activist, and film director with attentive work that celebrates neutrality as a defining human trait through androgynous fashion.
Rad reached popularity back in 2007 when he launched his first genderless clothing collection.
The designer advocates non-conformity as the essence of individuality and sees modernity as an odyssey free of nations, gender, age, race, limits, and conditioning.
The designer's work is influenced by media, painting, sculpture, photography, sound, and video and seeks to expose the foundations of our social, religious, economic, sexual, and geopolitical systems, proposing neutrality as a new universal vision.
Moreover, his unisex clothing creations include nonconformists' blends of shirts jersey turtlenecks, alongside art prints. An absolute must-see!
Nowadays, Rad Hourani label has an extensive range of gender neutral clothing options, suitable for any event or lifestyle.
11. Rich Mnisi
Rich Mnisi is a South African fashion designer that creates stunning feasts for the eye (and the body!) in the shapes of gender neutral clothing.
Rich is critically acclaimed for the superb colorful looks, elegant pleats, and thoughtful twists that can be found in every piece.
12. Toogood
A creation of sisters Erica and Faye Toogood, this label is the soul of amazing androgynous clothing.
Inspired by functional apparel and workwear uniforms, Toogood's creations are artistically instilled with life stories of various flavors.
Entirely designed and made in Britain, Toogood gender neutral collections are made from upcycled materials.
Put together by experts in a London-based atelier, with an ethos on sustainability the brand leaves conformity and convention behind.
I love the brand for its active fight to embrace one's individuality, in sync with the peace and love of others.
13. Wilde Vertigga
If asymmetry is your thing, look no further.
With this in mind, I am introducing Wilde Vertigga – a gender neutral clothing brand that takes "a walk on the wild side".
I love Vertigga's collections, especially its edgy clothes that depict 'casual affairs' in a rather rebellious manner.
14. Zero-Waste Daniel
Last but not least, Zero Waste Daniel is, as the name suggests, a zero-waste and gender neutral clothing pioneer based in Brooklyn, New York.
Daniel aims to achieve a zero-waste industry by using scraps to make unique unisex clothes, available in super limited editions.
To me, Zero Waste Daniel is the ultimate innovative blend of gender neutral styles with sustainable transparency.
Time To Embrace 'Blurred' Lines
And there you have it, top 14 gender neutral clothing brands to shop from in 2021!
After all, we live in an age of empowerment and cultural shifts.
So, it is time to embrace the s0-called blurred lines and take the pressure off gender traditions and dynamics.
As a result, this also allows each individual to dress how they truly want to.
Be a step above all expectations, enjoy gender-free, unisex, agender, gender fluid, and gender neutral clothing, in your very own, special way.
Weekly Newsletter. Sign Up Now!
Celebrities, designers, and latest news in sustainable fashion.