So you're looking for sustainable hair products, good for your scalp and the environment.
Good on you, as sustainable hair products are a must for your health right now.
Research shows that most hair care products on the market contain cancer-causing chemicals.
Also, as every day, we dump thousands of toxic chemicals and plastic into the ocean, sustainable hair products are great for the planet.
In this article, I'll show you how to check the sustainable claims of any hair care brand you want to try.
Also, I'll share with you top 5 sustainable hair brands right now, and what makes them so good.
Without further ado, here we go with…
How To Recognise A Sustainable Haircare Brand
Over the last two years, we've seen a rise in the number of brands marketing sustainable hair products.
The global hair care market size was USD 75.33 billion in 2018 and it is projected to reach USD 111.98 billion by 2026, exhibiting a CAGR of 5.2 per cent during the forecast period.
However, there's a lot of greenwashing going on; misleading labels, pseudo-natural ingredients, and so on.
For a brand to be eco-friendly and healthy for you, it has to use only natural ingredients.
1. Not All Advertised 'Sustainable Hair Products' Are Natural
Most hair care products contain lots of hazardous substances such as parabens, harsh surfactants, and oil derivatives.
These chemicals gradually accumulate in – and poison – your body.
Furthermore, these chemicals and pollutants harm the environment.
For example, microbeads found in exfoliating shampoos are being washed into waterways, daily, ending up into rivers and lakes.
Granted, obtaining natural ingredients is not easy.
That's why most sustainable hair products (or marketed as such) are packed with pesticides and synthetic fertilisers known to change the cellular structure of plants and humans.
2. Check For Sustainability-Related Certificates
Thankfully, now in 2020, is easier than ever to check a brand's claims regarding sustainability and origin of ingredients.
To become eco-certified, a company must stop using toxic substances such as paraffin, silicones, synthetic fragrances, and dyes.
Animal tests are also prohibited, so if the company has Organic Certified, Animal-friendy, or Cruelty-free certificates you're good to go.
There are cases when brands have all-natural hair products but have yet to switch to recyclable packaging.
3. Sustainable Hair Products In Plastic-Free Container
Right now we're in the middle of a global plastic pollution crisis.
Plastic waste is a real threat to the ecology of the planet.
In fact, there's so much plastic in the ocean that by 2050 there will be more plastic than fish.
Eco-friendly packaging is also critical to protect the environment and animals.
Same as it is the case with natural ingredients, always check the certificates on the bottle.
Choose haircare brands that use cardboard, paper and biodegradable polythene to help our environment.
If you see Climatop, Ecocert, Ecologo, and B Corporation certificates, you know these brands care about the environment and the ocean.
Top 5 Natural Hair Brands
Big brands in the haircare market are making sustainable changes, or so it seems.
For example, L'Oréal has plans to use bio-based bottles made from wood fibres to reduce material waste and pollution.
Yet, it's been three years since the initial announcement and no bio-based bottles have been released yet.
Same, Procter & Gamble announced the use of FSC-certified raw materials in most of its products.
Two years later, we see no change.
That's why, for the time being, I'd advise staying away from big brands and go with tested and verified brands such:
1. Lush
Lush was one of the first companies to understand the importance of sustainable hair products as a way of minimising pollution and packaging waste.
Nowadays, most of the company's products are made from natural ingredients.
The packaging is also made only from recycled materials.
To top it up, you can take your empty bottles back to Lush stores and leave them there for recycling.
For every five pieces, you'll get a free face mask.
2. Prose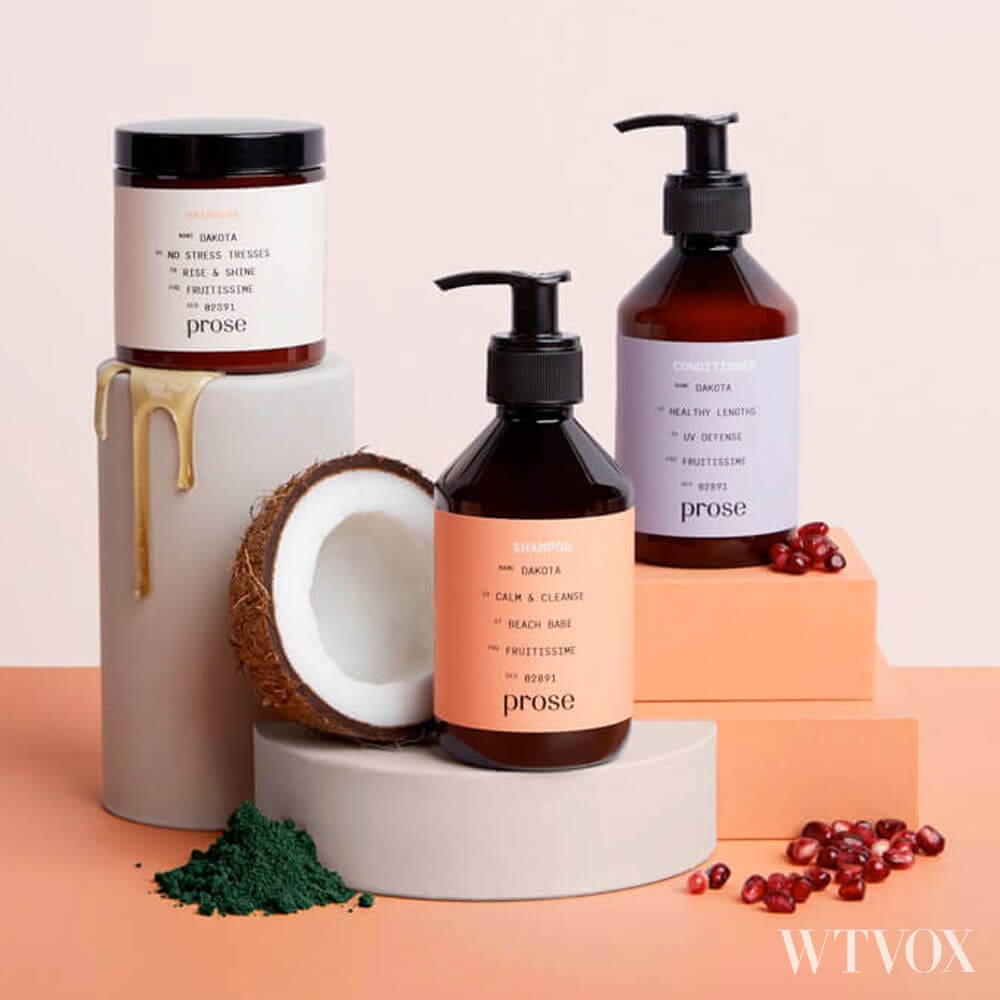 All Prose sustainable hair products are made from organic ingredients, free from sulfates and GMOs.
Moreover, Prose is a Certified B Corporation, which means it complies with high environmental standards.
Finally, the label is a partner of 'One Tree Planted' organisation which reforests the planet by planting trees all over the world.
3. Aromatica
Aromatica is a Korean aromatherapy label that makes vegan and cruelty-free hair products for any hair type.
Apart from using unique natural fragrances and natural ingredients that nourish your hair, the brand ensures that each product is EWG-verified.
What's more, the company runs several sustainable programs designed to minimise energy consumption and waste.
4. Dirty Hippie Cosmetics
Hailing from Australia, Dirty Hippie Cosmetics handmade, organic, and sustainable hair products are excellent.
The brand is 100% cruelty-free and vegan-friendly purchasing ingredients only through fair trade channels.
If not possible, then they source locally or grow their own raw ingredients.
The lab uses collected rainwater and eco-friendly packaging.
Finally, the brand is involved in several charitable initiatives and projects such as raising awareness of suicide prevention, animal welfare, and cancer support.
5. Davines
Davines is a brand that promotes an environmentally friendly approach to the creation of sustainable hair products.
The label is famous for its innovative projects driven by an eco-friendly philosophy.
Weekly Newsletter. Sign Up Now!
Celebrities, designers, and latest news in sustainable fashion.
For example, the 'I Sustain Beauty' campaign urges all industry players to pay attention to the environmental issues caused by the use of chemicals and plastic.
Furthermore, the brand's 'Oi' line – part of the 'Zero Impact Project' – contains active ingredients from Amazonian plants only.
Conclusion
Any significant change requires hundreds of small ethical decisions.
Make sure you pay attention to both aspects related to sustainable hair products: natural ingredients and plastic-free packaging.
Think of your health, but also the health of the planet.
Support the change for the better by choosing hair products with natural ingredients packed in recycled and recyclable packaging.