Always first to draw inspiration from social changes, womens streetwear is a fashion category on its own.
Often seen as a barometer to what's next in fashion, womens streetwear styles impact the entire industry.
Right now, womens streetwear styles are influenced by two trends, somehow at opposite poles:
A global rise in conscious lifestyle – which translate into a more relaxed, comfortable, athleisure-like style.

The world's changing views on masculinity, climate, and politics, reflected by an eco-conscious streetwear style.
2020 Trend In Womens Streetwear
The latest trend in womens streetwear sees a stylistic shift from 'fitness' to 'protest' apparel.
At the core of this new trend are the global unrest, climate crisis, and more recently the pandemic.
This emerging streetwear trend is defined by five key stylistic elements:
1. Oversized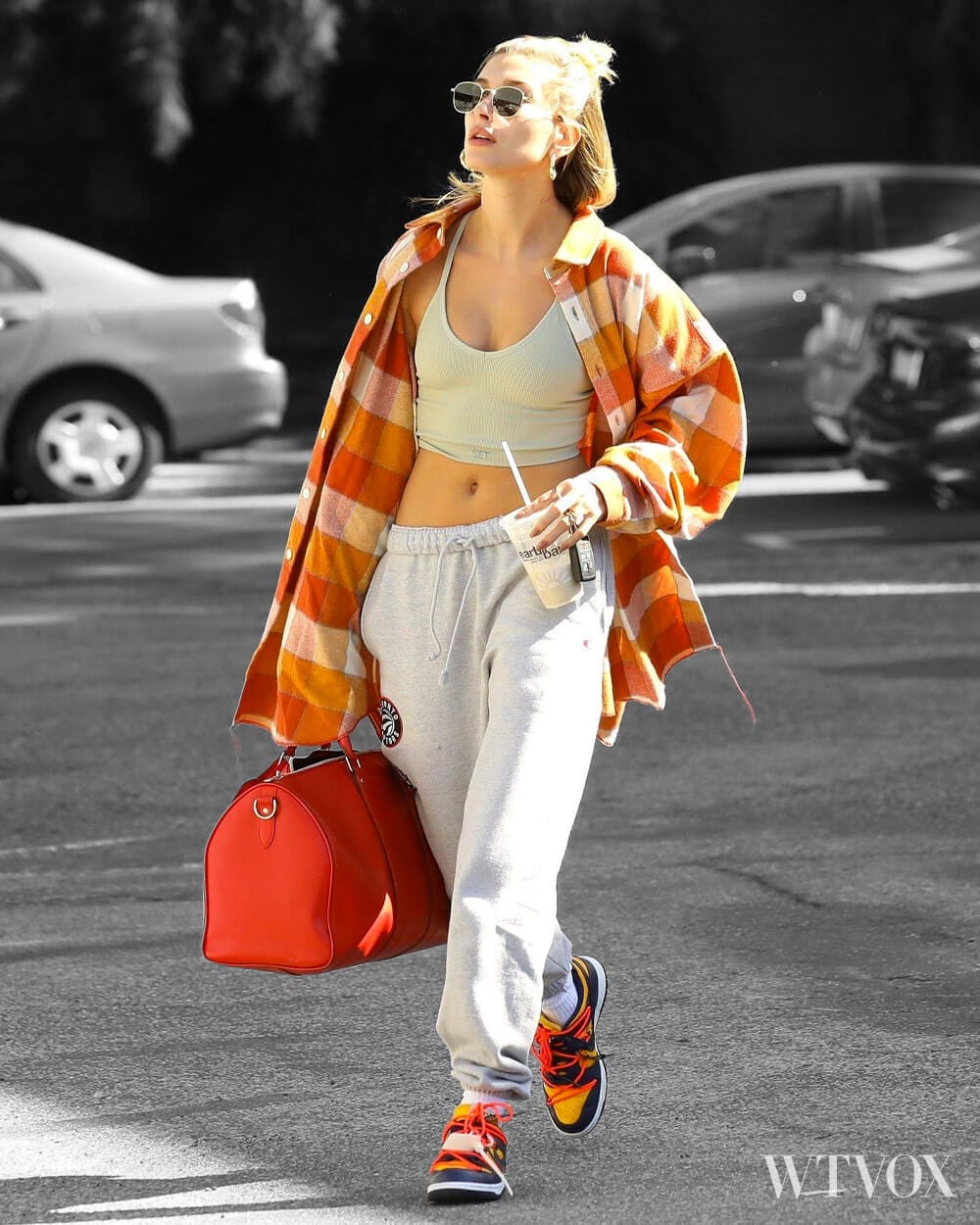 Here we see a change from skinny, on-the-body, fitness-ready cuts to loose, baggy, and oversized shapes.
Obnoxious and complex, the 2021 womens streetwear is often described as unflattering.
Yet, it is super comfortable and relevant AF!
2. Bold Sneakers
Early this year we've seen the 'ugly sneakers' style booming.
Birthed by Raf Simons and popularised by Balenciaga, bulky, platform-esque sneakers are still en-vogue at the end of the year.
Mover, bold sneakers are the best match to oversized streetwear styles.
3. Touched-up Classic-casual
The classic-casual mix style has its roots in the Californian surf culture.
It is where streetwear started, in a mix of shorts, tees, skateboards, and Rolex watches.
Fifty years later, thanks to the internet and hip-hop's artists, we see an adoption of baggy jeans and graphic styles in womens streetwear as well.
4. All Beig
Now, beige is not a style but a colour.
Yet, thanks to the emergence of dark academia styles, beige and dark colours are becoming prevalent to womens streetwear right now.
The colour choice is so powerful that it defines the last point on our list, techwear.
5. Techwear
Techwear is on route to becoming the most status-conferring style right now.
However, infusing techwear into womens streetwear comes with a warning:
"Don't go too flashy by wearing head-to-toe techwear."
Techwear is a great look.
Yet, be careful not to push it too much towards tech or you'll lose the conscious and relaxed streetwear style you want to achieve.
This Is How Women Should Style Streetwear
Here are 5 tips on how to style streetwear in 2020.
These 5 tips will help you achieve maximum effect with all sorts of combinations, from the trends above.
Tip 1: Invest in bold sneakers
Bold sneakers.
It is critical that you invest in a good pair of bold sneakers now, in 2020.
Yes, sneakers could be expensive but are the most important part of your streetwear look.
Tip 2: Go silent with logos
Brand loyalty is critical in the streetwear culture.
However, in 2020 you must avoid at all costs 'loud' logo outfits.
Tip 3: Counter casual with the classic
Blend casual with classic pieces.
Counter one with another by layering different brands in one look.
Tip 4: Play with proportions
Remember, one of the key trends in womens streetwear is the oversized, loose, baggy look.
However, make sure you play with proportions to avoid looking like a balloon or bean bag.
Tip 5: Be yourself
Be unique. Get inspired by the five stylistic elements to make sure your streetwear style is trendy.
Then, follow the above styles tips to create your streetwear style.
Top 10 Streetwear Brands For Women
Remember, streetwear has always been about mixing and matching pieces from different brands and cultures.
While I've carefully selected the brands below for their matching capabilities, just make sure you follow my advice above.
That way you'll stay super relevant with an extra touch of oomph and effect.
1. Carhartt WIP
Founded in Detroit in 1889, Carhartt is first and foremost recognised as a workwear brand.
However, thanks to its 'Work in Progress' (WIP) project, Carhartt reached a whole new level of popularity and recognition.
Still focused on workwear and everyday wear, Carhartt WIP introduces women to streetwear and skatewear thanks to sleek designs and bold graphics.
Carhartt WIP 2021 womens streetwear line includes everything from camo pieces, varsity jackets, and overalls to long-sleeves, work jeans, beanies, and more.
2. Ashley Williams
Established in 2013 as a must-have label for UK's cool girls, this streetwear label finds inspiration in the fast-changing London scene.
If you do not recognise the name, chances are you've already spotted AW's subversive womens streetwear styles in London, Tokyo or New York.
3. Aries
Aries was co-founded by a rave culture lover that's using the subculture as the primary source of inspiration for her womens streetwear designs.
The label's rare silhouettes aim to represent the spirit of the youth, free of problems and full of life.
Some of the brand's most famous pieces are the branded t-shirts and silk track pants.
4. LIV streetwear
What started as a college dorm streetwear collection has soon become a globally recognised womens streetwear label.
Founded by Olivia Anthony, LIV Streetwear collections merge the '90s aesthetics with elements of athleisure to create cosy streetwear gear but, with an edge.
Anthony's latest collection has profound ethical references but retains its street-style and unisex appeal.
5. Frankie Collective
Frankie Collective is a womens streetwear brand every modern woman should know about.
The e-tailer reworks and sells iconic creations from Supreme, Champion and Kappa, with a one-of-a-kind stylistic touch.
Women run the show at Frankie, and it shows through the uniqueness of the styles and apparel quality.
Sara Gourlay, the label's creative director, prides herself on making both sustainable and streetwear pieces that make women feel comfortable and stylish at the same time.
6. I.AM.GIA
I.AM.GIA is the brainchild of Alana Pallister, co-founder of Tiger Mist, an Australian retailer.
With statement designs ranging from snakeskin boots and corsets to cargo pants and plaid sets, the label has gained a loyal following of influencers and celebrities on social media.
The brand brings uber-confident streetwear styles designs and if you're looking for neck-breaking pieces to flex on the' gram, I.AM.GIA has everything you need.
More recently, the label started selling via mass retailers such as Urban Outfitters, making it easier to buy.
7. KITH
KITH is a streetwear clothing brand that caters to both women and men.
The label was founded in 2011 by Ronnie Fieg, and for the uninitiated, Fieg is a significant figure in the sneaker industry.
KITH's for women in-house apparel line is pretty sweet following the brand's partnership with another streetwear label for women, MISBHV.
KITH operates both as a retail store with locations in New York, Miami, and Los Angeles and online.
8. Prix Workshop
Prix Workshop is a streetwear brand founded by Esther Ng, a young designer based in New Zealand.
Following a recent interview, the founder stated that while Prix Workshop is based Down Under, 90 per cent of the brand's customers are based outside of the country.
Prix Workshop's womens streetwear collection oozes of sexuality, and it is packed with summer essentials such as biker shorts or bikini tops.
The label also holds unisex pieces including cargo pants and tactical vests.
And if you care about the Kardashian-Jenner family's stamp of approval, Prix Workshop's pieces have been worn by Kylie, Khloe, and Kendall.
9. MISBHV
Coming from Poland, MISBHV (pronounced "misbehave") is a streetwear brand that caters solely to women.
Natalia Maczek, the founder of MISBHV, started her label at only 19 years old, catering to the Polish market only.
Soon after, Natalia's unique streetwear styles started doing the rounds outside those circles, and MISBHV quickly garnered a global fanbase.
Right now, MISBHV is a notable player in the womenss streetwear game thanks to collaborations with Rihanna and Farfetch.
10. OFF-WHITE
A creation of Virgil Abloh, arguably one of the most well-known names in streetwear right now, OFF-WHITE is a streetwear label with a luxury touch.
Since Virgil has become the Head of menswear at Louis Vuitton, his label has reached global recognition and cult-like status.
With Jimmy Choo, Nike, Converse, Levi's, Heron Preston, and RIMOWA collaborations, Virgil's pieces are instant sell-outs.
OFF-WHITE's womens streetwear pieces are all about the details, with insane conceptions such as Princess Diana-inspired suits.