So you want to know what to wear golfing for the first time?
Golfing is a gentlemen's and gentlewomen's game, and the dress code reflects that very fact.
There are strict dressing rules when it comes to what to wear golfing but, with 30 years of practice, I am here to help.
This article is a quick guide to the following topics:
What are you supposed to wear golfing?
What you should not wear golfing, no matter what.
At the end of the article, I'll introduce you to some of my favourite golfing brands that offer great looking modern apparel.
Without further ado…
What To WEAR When Golfing?
If you're new to golf, you may have kitted yourself out with the best clubs, tees, and golf bags.
But, before you start spending on your golfing attire, know there are dos and don'ts in a golf club.
Pants
When you step out onto the golf course, you're going to have to wear either long pants or shorts.
Your choice depends on the temperature on the day, as well as on what you're comfortable wearing.
Men should choose flat-front chinos or chino shorts.
Moreover, both types of trousers must always be worn with a belt.
In women's case, you can wear either a skirt or skorts.
Shirt
Depending on the weather, you can wear either a long-sleeved shirt or a short-sleeved shirt.
However, make sure your shirt has a collar.
Also, tuck your golf shirts in, as it helps a lot, not only with the aesthetic but also while you swing away.
Headgear
You want to protect your head and shield your face from sunlight when playing golf.
You can wear either a baseball cap, hogan, fedora, bucket hat, or a visor if you don't want hat hair.
However, whenever you're on the golf course, the hat should be turned forward and never backwards.
Moreover, whenever you enter the clubhouse, you'll have to remove your hat.
Shoes
Most modern golf courses have moved away from the traditional metal-spiked soles that damage the greens.
Both men and women have to wear golf shoes with spikes that are from either rubber or plastic.
Make sure you check this page for an excellent guide on latest best women golf shoes.
And, again, as part of the golf's strict etiquette, socks must always be worn.
What NOT To Wear Golfing?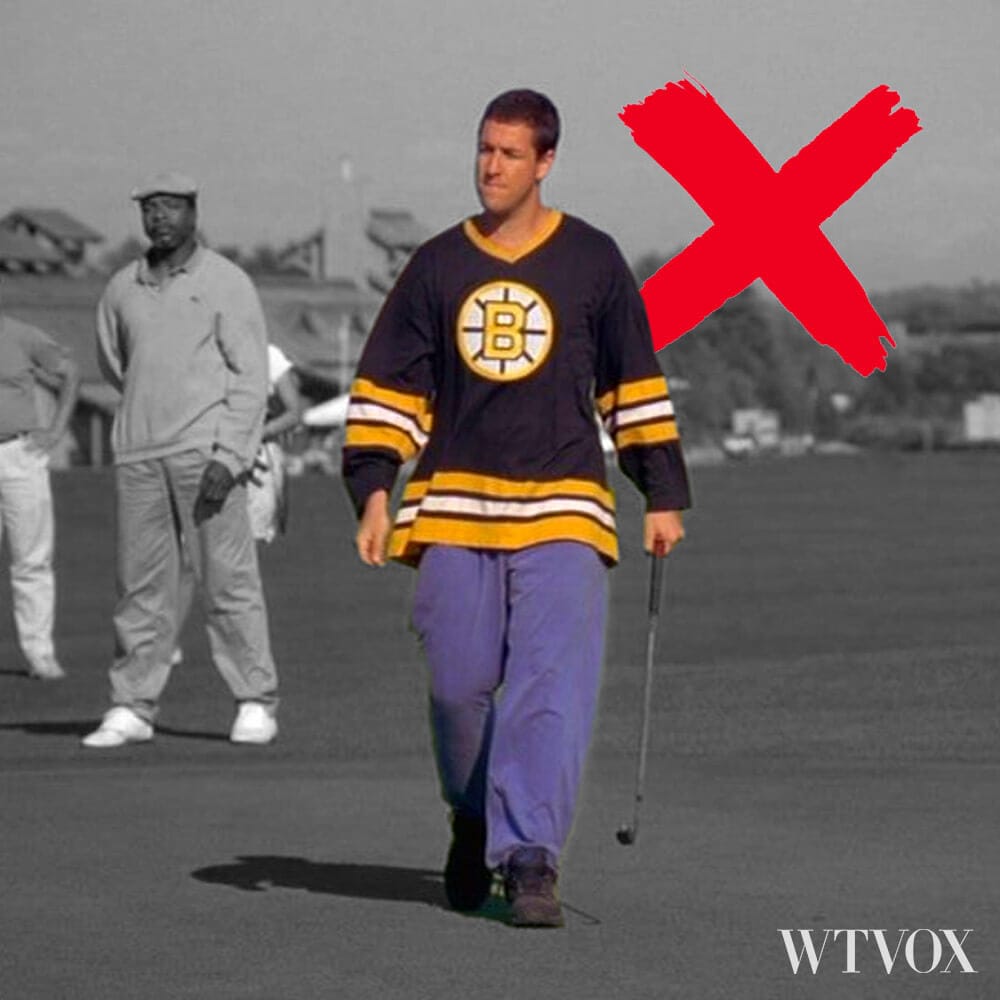 Even though in recent years some golf courses have relaxed their dress code, you could still be turned away if you're wearing any of the below items.
Moreover, the following dress code tips are applicable not just for private golf courses, but public courses as well.
Jeans
No, you can't wear jeans on a golf course!
Most golf courses have strict dress codes that you have to adhere to.
If you refuse to respect the rules, they have the right to turn you away.
Jeans in particular are one of the most debated apparel items right now.
So much so, that golf courses around the world might refuse your membership if you insist to play while wearing them.
Before you put on your jeans, check the dress code of the club you'll be playing at.
However, chances are you won't be allowed to wear them.
Sneakers
Most golf clubs will insist on wearing only specialist golf shoes.
Yet, some clubs may let you onto the course with running shoes, provided the spikes are thin and made of plastic.
However, be aware that wearing non-golfing shoes will compromise your balance and swing.
Also, know that you won't be allowed on the course if you're wearing sneakers, sandals, boots, or streetwear.
Now, with the knowledge of what to wear and what not to wear when golfing for the first time, here are some of the best golf brands right now.
Best Golf Brands To Wear In 2020
Golf brands keep upping their functional game.
Now, in 2020, most brands are making lightweight, breathable and moisture-free apparel.
However, not all brands are stylish or aesthetically pleasant.
Below are 9 of the most eye-catching golf brands right now.
Under Armour
Nike
Adidas
Champion
Baleaf
Jofit
Polo
Puma Golf
Tail
Conclusion
Tradition has played and continues to play a large part in golf.
Most golf clubs stick to their old-school dress codes rigorously so if you want to be a golfer, knowing what to wear golfing is a vital part of the game.