Sustainable fashion is in demand right now and we've found you the perfect green dress!
Covid-19 pandemic is reshaping fashion in incredible but positive ways.
Fashionistas are rethinking buying habits, balancing decisions between needs, ethical values, and the impact of their choices.
Also, there's growing attention to the origin (and the type of materials that make-up the garments and shoes they buy.
And this reminds us of a beautiful 'green dress' works of art created by the South Korean artist Yeonju Sung.
Wearable Foods Collection
Back in 2009, the designer used food to create a unique clothing line for women, titled "Wearable Foods."
As a result, Wearable Foods ' green dress' collection was an eye-catching edible fashion line, on the verge of art, often described as 'sculptural foodwear.'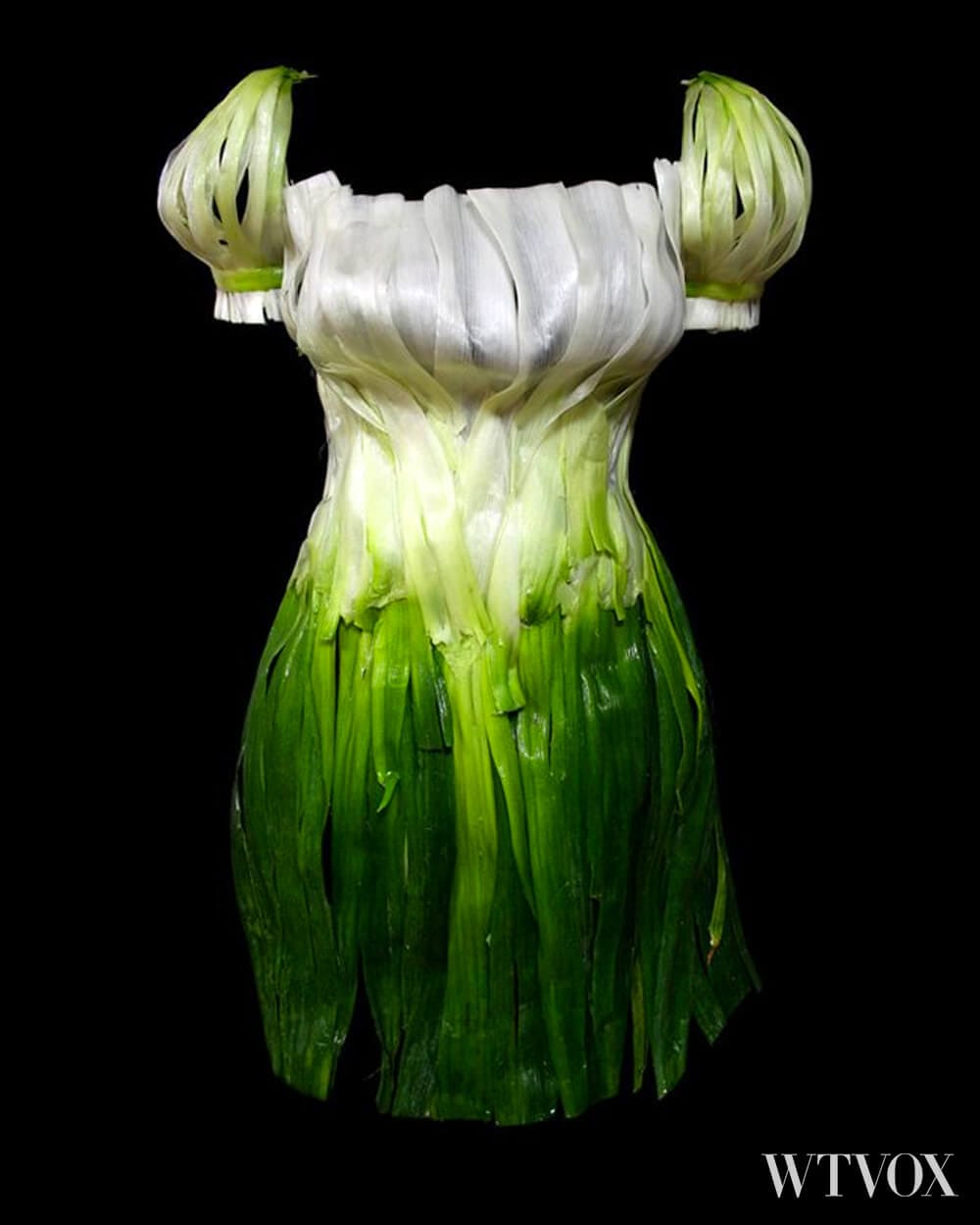 By using a variety of food and ingredients as her medium, the crafty artist has constructed a multitude of garments with consumable goods.
Fashion From Chewing Gum
For instance, the line includes (but are not limited to) mushrooms, tomatoes, bananas, eggplants, salad, bread, eggs, and even chewing gum.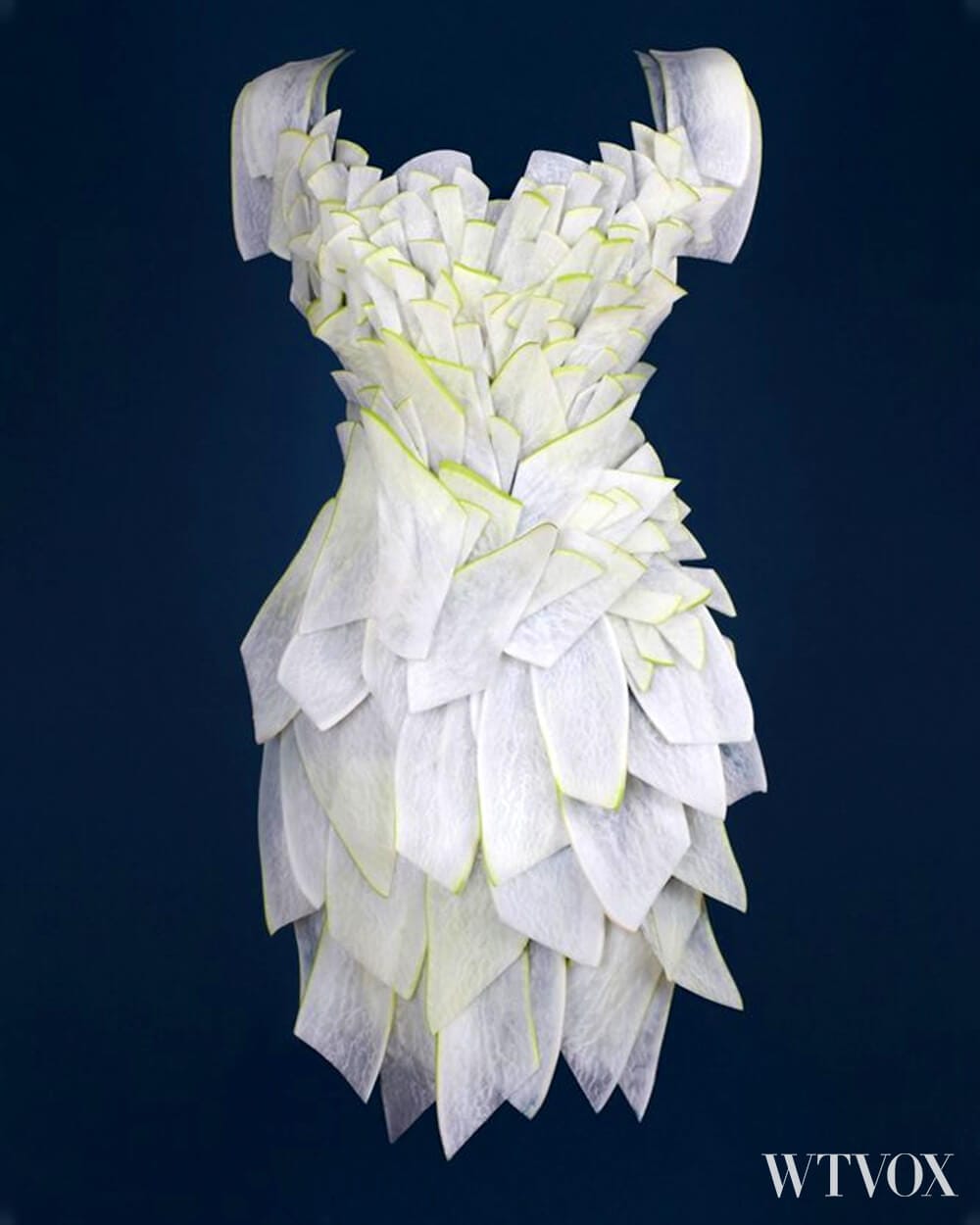 "My fashion reality contradicts the conventional notion of food and clothes. I present the audience with images that can only exist in their minds and imagination. I turn them into a reality that eventually disappears, said Yeonju Sung.
In other words, by 'disappearing reality' the designer referred to the natural consequence of the decomposing food-garments.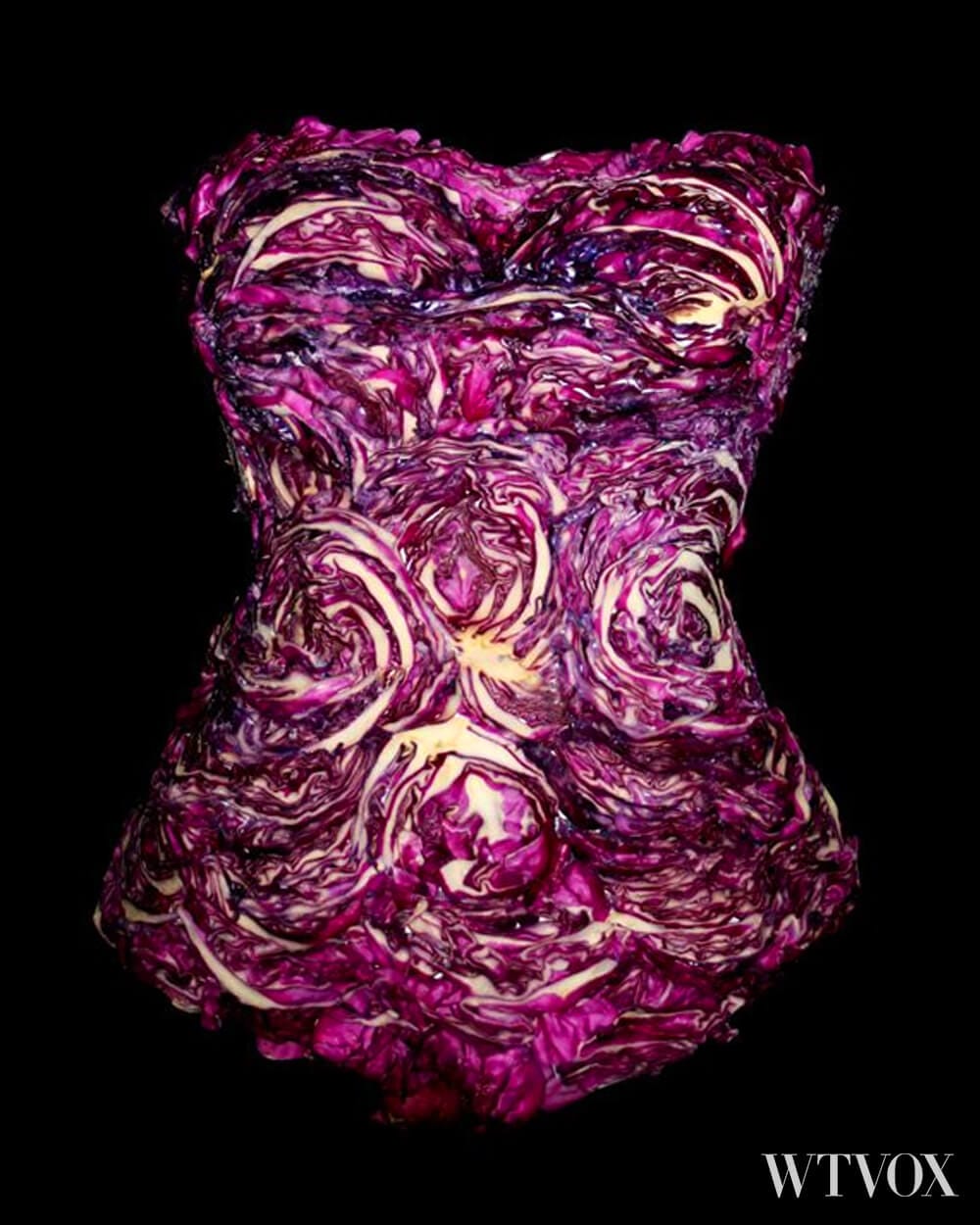 Evolving Garments
Initially fresh and green, the dresses are slowly fading into unusual, often grotesque, forms.
"As time goes by, the components of my work goes through a progression of disappearance. The food is gradually changed into new states, by fading its shape and colour in the process," completed the Seoul-born designer.
Above all, with a B.F.A. Dep. in Painting, from the College of Arts at HongIk University, in Seoul, Korea, Yeonju Sung 2009 'Wearable Foods' was an absolute success.
The 'green dresses' deliver unexpected textures and characters of food ingredients, beautifully deconstructed and reassembled into new lines of wearable 'clothes'.
According to Yeonju Sung her 'Wearable Foods' collection plays on ambiguity, designed to questions the authenticity of the images bombarding us daily via social media.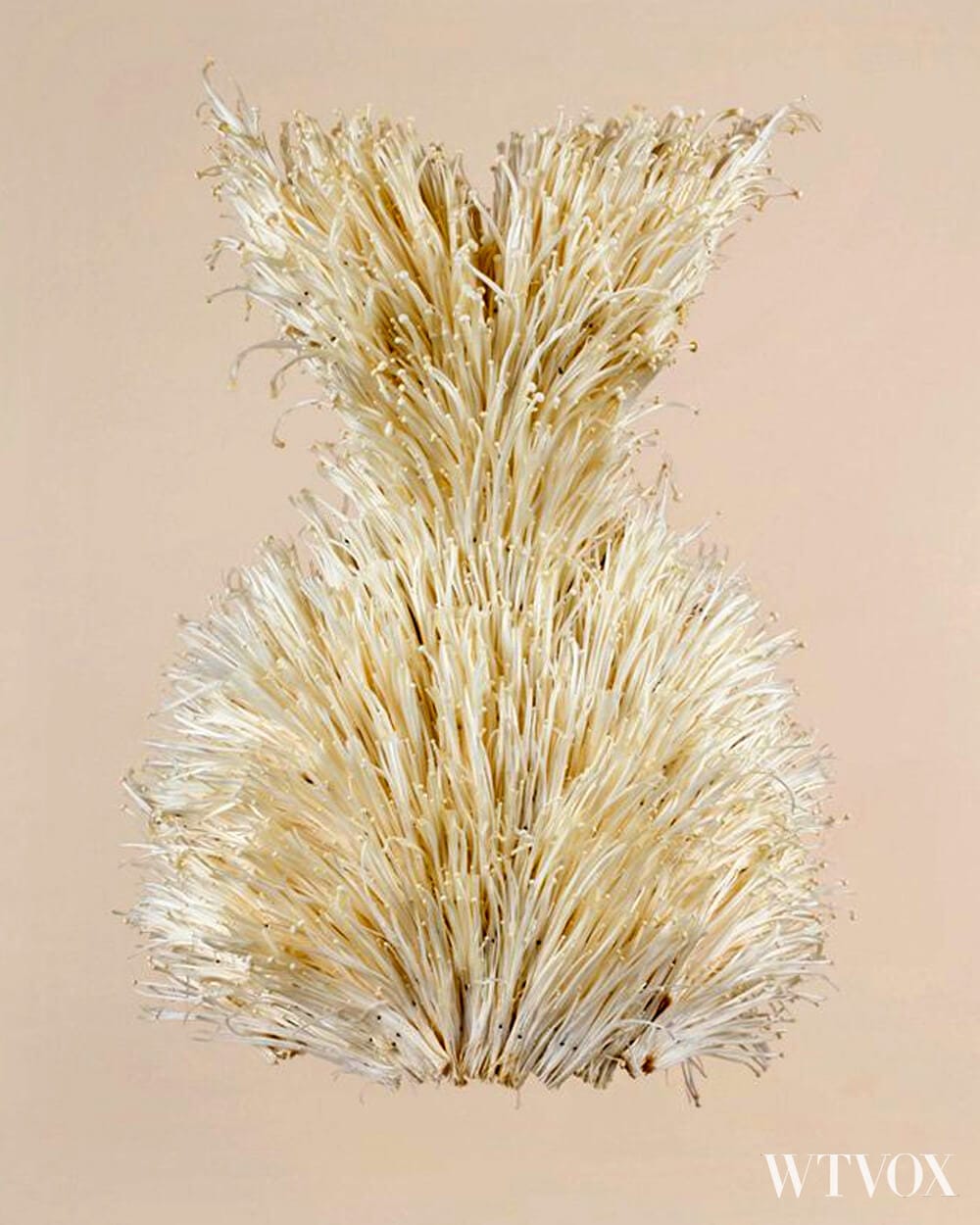 In conclusion, Yeonju Sung is an artist to keep an eye on.
Moreover, her work has been featured in several worldwide public exhibitions, and no doubt it will be featured in many more.
Also, her work has been presented in private collections such as Korea's National Museum of Contemporary Art, Venta Korea, Konkuk University, and many more.
WTVOX – 'Voicing the Future of Fashion'
For more similar content and lightning-quick updates delivered directly to your inbox subscribe to our weekly newsletter.
For daily news in sustainable fashion, innovation, conscious beauty and lifestyle follow us on social media: Instagram, LinkedIn, Facebook, Twitter.
Finally, if you want to interact with thousands like you, join your tribe on the Future of Fashion Group.
A decade of fashion; here's to the next one.
The past decade has been turbulent – and defining – for fashion: child labour, climate crisis, gender inequality, animal cruelty, and reckless plastic pollution, just to name a few.
With the COVID-19 pandemic, the beginning of this decade does not look too good either.
That's why finding media that reports with rigour and integrity at heart is difficult in critical times.
Finding media that informs all, regardless of where they live or if they can afford to pay, is even harder.
In these times, independent fashion media magazines are increasingly silenced by commercial ownership and social media misinformation.
So far, your unceasing support has allowed us to keep delivering trustworthy, relevant, high-quality content.
Your support allowed us to uphold our editorial independence and ensure honest journalism, free from commercial ownership or political bias.
We are deeply grateful for your generosity and continue to count on your support.
Thank you.