According to Google, 'online thrift store' was one of the most searched fashion terms of 2020.
I'm very happy to hear that, as thrifting is one of my favorite things to do.
There's nothing more satisfying than finding that rare vintage piece that you can style to perfection.
Unfortunately, with the current COVID lockdown, most thrift stores are closed, making thrifting a tricky business.
However, that doesn't mean you have to stop thrifting altogether.
In this article, I'll help you get your thrift on from the safety of your own home.
Without further delay, these are the best online thrift stores in 2021!
1. Depop
Depop is an online thrift store that enables individuals to buy and sell clothing via iOS and Android platforms.
The marketplace has attracted celebrities to open their own individual stores, with some donating proceeds to charitable causes.
Depop is very popular with the Millennial and Generation Z audience because it provides a way for them to purchase clothes worn by celebrities they love, and to recycle unwanted items for money.
Another plus to Depop online thrift store is its layout similar to Instagram, giving it a social media feel.
2. hewi.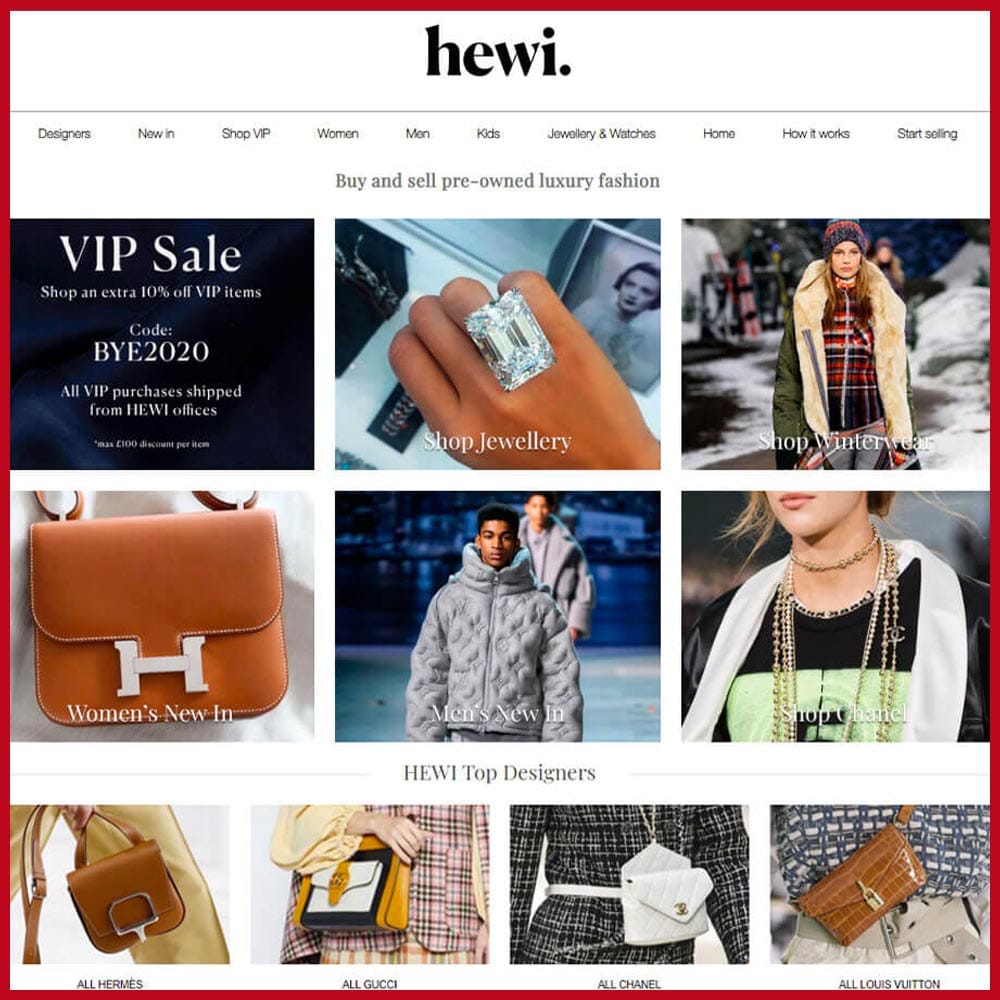 hewi. (Hardly Ever Worn It) is a London-based online thrift store that aims to create a seamless shopping experience through its platform.
The platform incorporates preowned women, men, and even kids designer clothes that are either new or have been barely worn.
It allows shoppers to buy items, make offers for future purchases, or sell their designer goods without any extra fees.
VIP service is also available for sellers, who want HEWI London to handle everything on their behalf, from collecting the items to the buyer inquiries.
This method also allows sellers to remain anonymous if they wish.
3. thredUP
Arguably the world's largest online thrift store.
thredUp holds over 35,000 brands, from Gap to Gucci, Lululemon, Zara, J. Crew, and Ann Taylor.
Moreover, they inspect, photograph, list, and ship items for you.
What I love about this marketplace is the easy returns policy and free shipping on orders over $79.
To date, this online thrift store has upcycled over 100M items by giving second-hand clothes a second life.
4. Vestiaire Collective
Since 2009, Vestiaire Collective has expanded its local business from Paris to a global scale, to over 50 countries in Europe, the United States, and soon Australia, Hong Kong, and Singapore.
Providing over 3200 fashion items a week for the shoppers to choose from, Vestiaire Collective ensures a unique shopping experience for its customers.
More than that, Vestiaire Collective is developing new features to improve its shopping services, such as a smart email alerting feature that informs buyers to know whether a particular item they are hunting for, is listed or not.
The platform allows interaction with sellers for more information and negotiation on offers.
Also, a team comprised of highly trained counterfeit experts is in place to check for the authenticity of the items, so that customers feel safe knowing the items they exchange are genuine.
5. Wardrobe of Tomorrow
Wardrobe of Tomorrow was the world's first marketplace that opened its doors exclusively to sustainable designers.
More recently, the marketplace has launched its online thrift store.
Here, existing marketplace buyers can sell back their high end and luxury clothes to designers and other buyers.
Also, the marketplace allows outside buyers, interested in selling or buying second-hand high-end clothes, bags, and shoes to create a free account and trade.
The marketplace accepts all types of payment, has free delivery worldwide, and an excellent return policy.
Moreover, customer support is phenomenal, with each buyer being allocated a real human being as their dedicated account manager that you can text or email.
6. The RealReal
The RealReal is a brick-and-mortar and online thrift store dedicated to certified luxury consignment.
Based on the circular economy, The RealReal sells consigned clothing, fine jewelry, watches, fine art, and even home decor.
The marketplace employs an in-house staff of experts including horologists, gemologists, art curators, and luxury fashion authenticators who inspect items for authenticity and value.
7. ASOS Marketplace
ASOS Marketplace is home to 900+ small businesses including independent brands and vintage boutiques from 50+ countries.
Whether you're on the hunt for a vintage sweatshirt from your fave brand, the perfect pair of vintage jeans, or one-of-a-kind vintage dresses, ASOS vintage boutiques have done the hard work for you.
I personally come back quite often to ASOS' thrift store when I need 90s grunge and vintage sportswear edits.
8. High Fashion Society
Launched in 2010, High Fashion Society is providing a range of services that allow users of its online platform to exchange their clothes.
With the aim of designing a marketplace in which shopping pre-owned designer brands are as pleasurable as direct purchases from a design house, High Fashion Society ensures the authenticity of all luxury goods.
The online platform offers a variety of exclusive services including a money-back guarantee, regular updates of the latest fashion and styles, discount services, product alerts, and offers for fashion events.
9. Luxury Garage Sale
Founded in 2011, Luxury Garage Sale is a curated collection of authentic, pre-owned pieces from the world's most beloved luxury brands.
I've found on this thrift store 'stand-out' purses and shoes from top luxury brands such as Chanel, Louis Vuitton, Hermés, Christian Louboutin, and David Yurman.
Moreover, authenticity and excellent customer service are always guaranteed.
10. REBELLE
Founded by Cécile Wickmann and Max Schönemann in Hamburg Speicherstadt, REBELLE is a new online thrift store for high-end and luxury fashion and accessories.
The platform includes all the necessary information about the products, from high-resolution pictures, the description of the textile and used materials to delivery.
To validate the quality and authenticity of the products, a team of experts inspects every single item that is being shared in the marketplace to ensure a safe and trusting shopping environment for the users.
To create a unique experience for the customers, REBELLE guarantees a 48-hour delivery service with green packaging.
11. Rewind Vintage
Founded in 2010 in the UK, Rewind Vintage is an online thrift store that offers a safe and effortless clothing exchange experience for vintage and pre-owned luxury handbags and jewelry.
By collaborating with other e-commerce platforms such as Farfetch, Rewind has created an extensive online network for pre-owned luxury products.
However, Rewind experts source, select, buy, sell, and customize all the items themselves in order to ensure the quality of the products and protect the privacy of the customers.
The products are not only limited to custom-picked collections such as Chanel, Celine, Gucci, and Hermès, but Rewind also offers some rare and hard to find vintage gems.
More than that, Rewind offers customized services for its customers who wish to personalize their own designer handbags our on of the pre-owned ones by its collaboration with a number of established and up and coming artists.
12. Vinted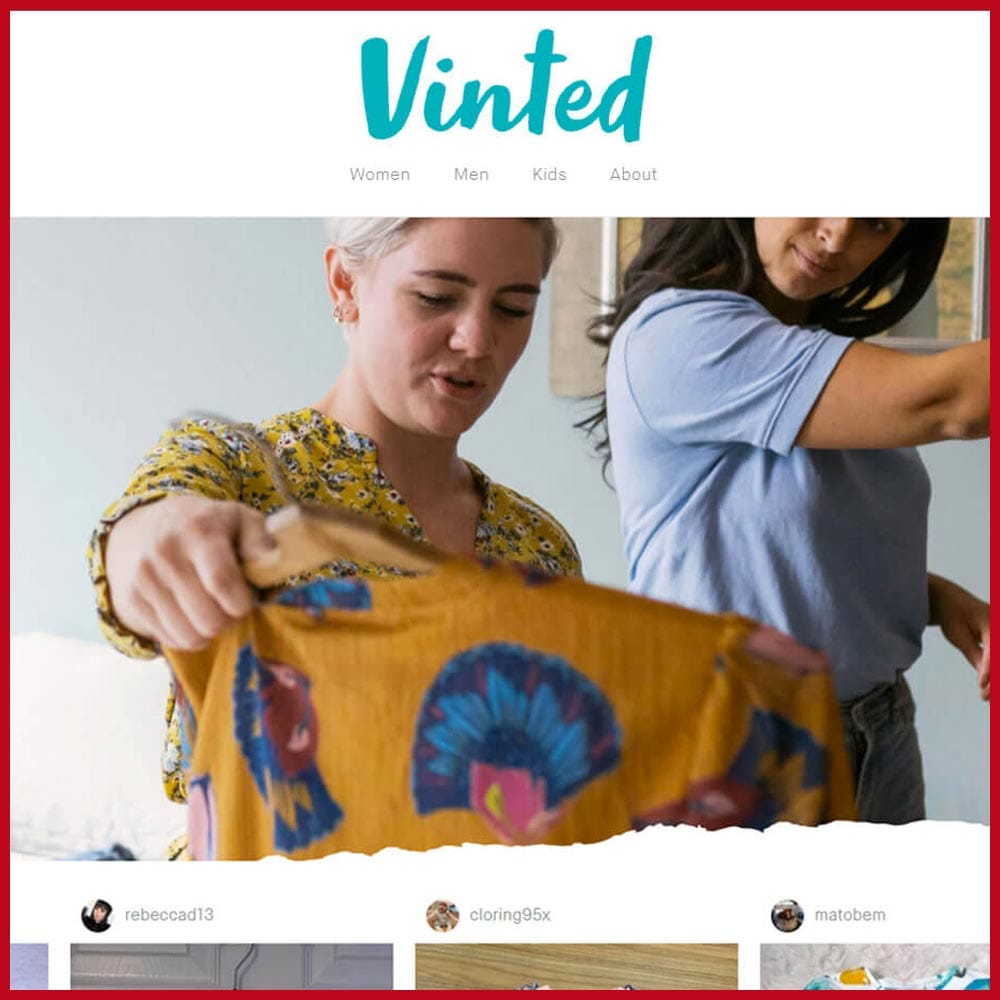 Vinted is a Lithuanian online marketplace founded in 2008, by Milda Mitkute and Justas Janauskas.
Available on iOS, Android, and desktop browsers, Vinted provides users an online thrift platform to sell their clothing and accessories.
You can also purchase or swap with other users, or communicate with members using the forums.
Since their launch, Vinted has expanded into men's and children's clothing.
According to the official website, Vinted has 20 million members, with 15 thousand members joining every day.
As of 2020, Vinted is available in twelve countries.
13. I Am That
Based in Portland Oregon, I Am That is a curated clothing project that brings vintage into the contemporary fashion context.
Established in 2016 with the goal of creating an intentional, sustainable shopping experience, we focus on highlighting fresh vintage pieces that fit seamlessly into a forward-thinking closet.
I Am That also collaborates with local and emerging designers to cultivate a community of independent voices in fashion.
14. Omnia
Omnia is a (temporarily closed) Brooklyn based online boutique thrift store, stocked to the brim with one-of-a-kind vintage clothing and accessories.
The store is reaching customers around the globe, from the UK to Australia, and from France right back to NYC.
The shop's collection is hand-picked with a modern romantic and metropolitan woman in mind, emphasizing flattering fits, functional designs, and top quality fabrics.
15. Tradesy
Tradesy is an online peer-to-peer resale marketplace for buying and selling women's luxury and designer contemporary fashion.
Tradesy was established in 2009 by CEO and Founder Tracy DiNunzio and is headquartered in Santa Monica, California.
DiNunzio set out to create a marketplace where women could sell their pre-owned pieces to fund their new wardrobes and gain access to pieces discounted from retail.
To finance early development for Tradesy, DiNunzio worked at her kitchen table, slept on the couch, and rented her bedroom on Airbnb for a year.
16. Flyp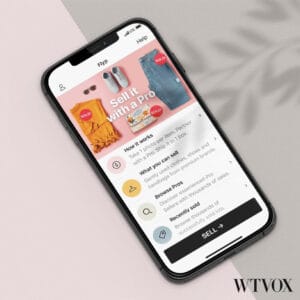 San Francisco-based Flyp started as the brainchild of resale-entrepreneur James Kawas who realized more people would be encouraged to give their old clothes a second life if the selling process were a little easier.
The platform connects people (with clothes to sell) with independent professional resellers.
The thrift store accepts good-condition (rip, smell, and stain-free) clothes, shoes, and handbags from all known fashion labels and designer brands.
However, they don't accept non-branded or fast fashion labels such as Forever 21, Zara, and H&M.
I like Flyp for its security and no-upfront costs, so you're never in danger of losing your stuff or money.
17. Rebag
Rebag is a designer online thrift store dedicated to luxury bags.
The online thrift store has in stock every imaginable bag style, from backpacks to purses and professional totes.
Being a luxury second-hand store, the brand puts focus on the usual designer list including sustainable fashion darling, Stella Mccartney, who unlike most luxury brands, does not use any leather or animal fur and instead uses organic fabrics and low-impact dyes.
Like most of the thrift stores on this list, Rebag allows individuals to sell their secondhand bags on their platform.
18. Patagonia Worn Wear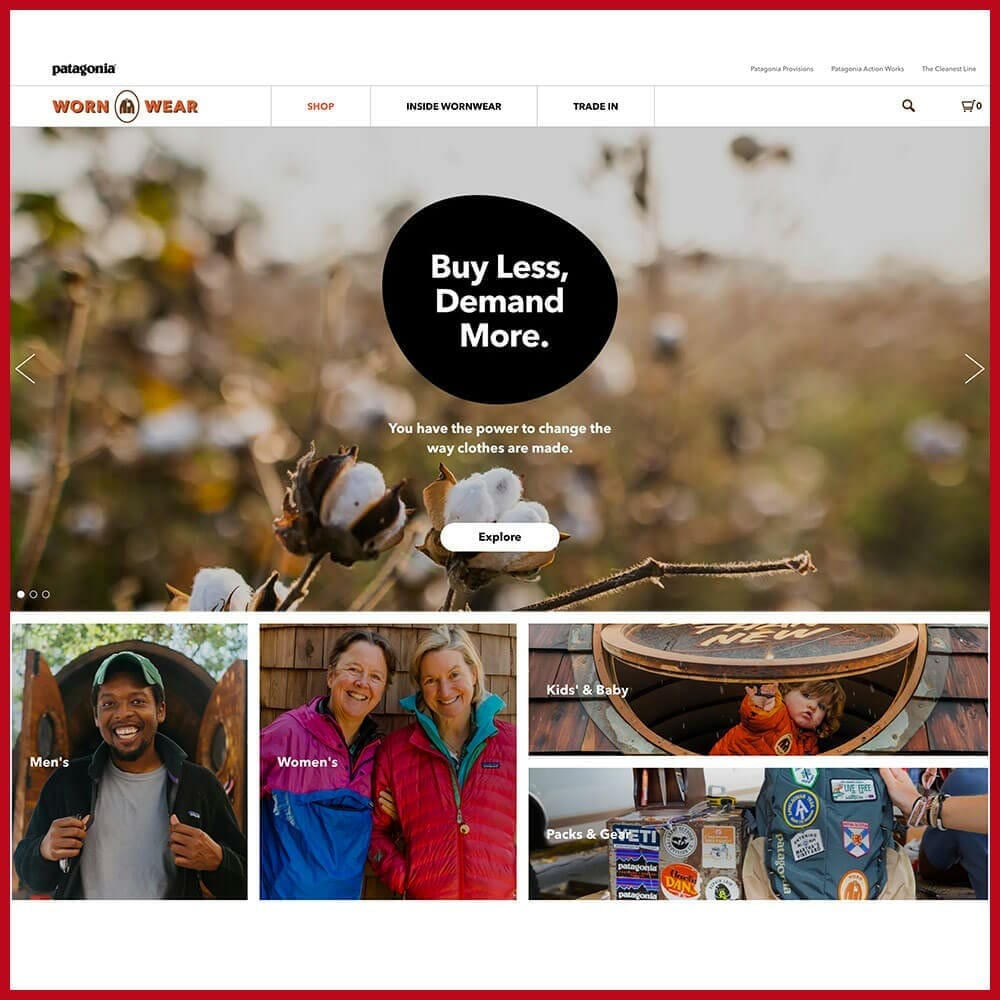 A thrift store for adventurers, Worn Wear is the thrift store of the outdoor clothing brand Patagonia.
This is the thrift store where the American brand sells gently used clothing for men, women, and kids, as well as used outdoor gear, at slashed prices.
Patagonia's dedication to corporate responsibility happily reminds us that some (albeit far fewer) brands do put their money where their mouth is.
Yvon Chouinard, Patagonia's founder, and CEO writes in his business memoir Let My People Go Surfing:
"Patagonia will never be completely socially responsible. It will never make a totally sustainable non-damaging product. But it is committed to trying."
With its Ironclad Guarantee, Patagonia will repair any piece of clothing sent to them indefinitely, no matter how old it is.
Then, if it can't be repaired, they'll recycle it, and put it back on the market via Patagonia Worn Wear program.
19. Beyond Retro
Beyond Retro is a one-stop thrift shop if you're looking for rare vintage finds.
The company is committed to reducing, reusing, and reclaiming discarded clothing and to date, they've rescued over 10 billion items.
Love Beyond Retro for its use of eco-friendly packaging and carries an upcycled Reworked collection.
From the 1970s paisley blouse to the men's Hawaiian style button-down, the options here are limitless.
Plus, if you're in the UK, the delivery is free for orders over £75.
20. Refashioner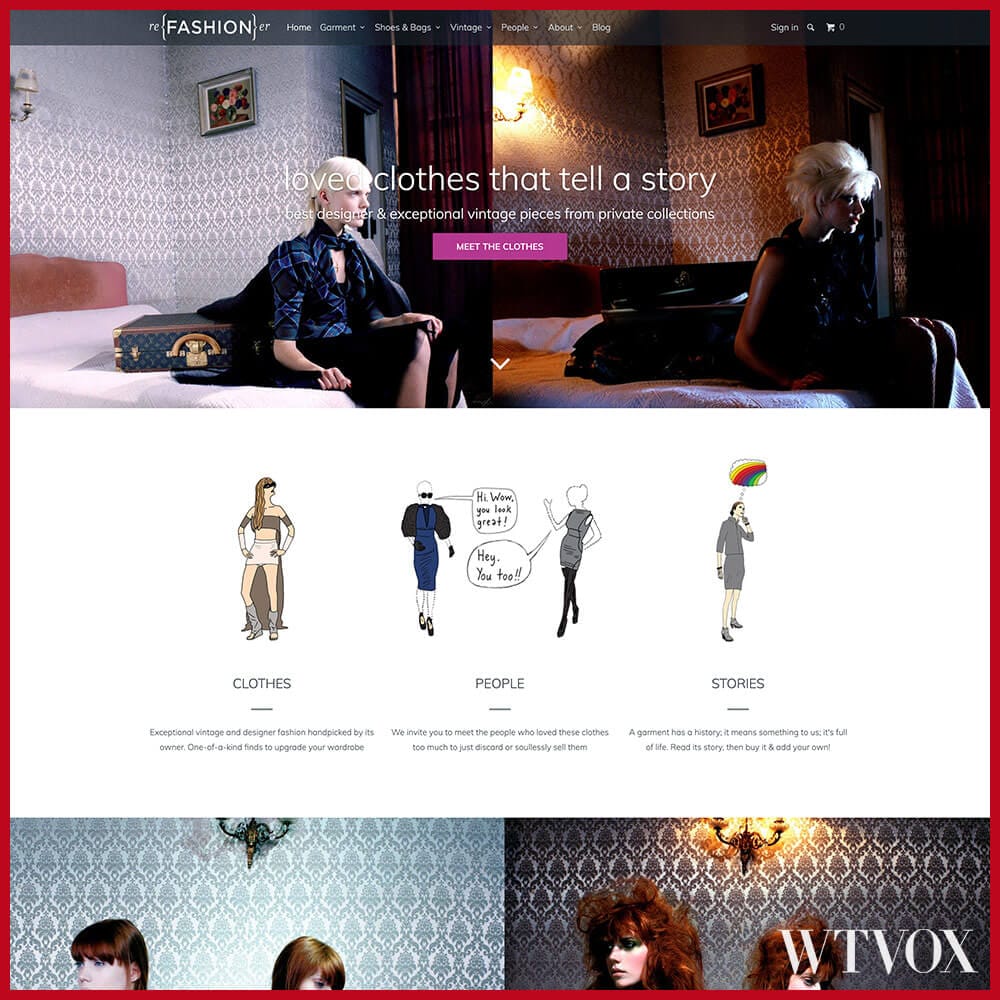 Launched in 2009, Refashioner focuses on high-quality genuine vintage clothing.
While some of their designer vintage pieces (like those from Miu Miu and Fendi) are understandably a bit pricier, many of their vintage items are perfectly reasonable for the market.
Not only are the pieces really vintage (as opposed to that fast fashion "vintage" sweater), but they provide the story behind each piece, such as a fascinating anecdote about something that happened in it or a favorite memory from the person who once wore it.
21. House of Vintage
First opened in Canada in 2003, House of Vintage has two shops in east London, as well as its online thrift store.
The store has a broad range of secondhand items, but its vast, eclectic range of Americana-style T-shirts, shirts, and sweatshirts is what sets it apart.
Here you will find logos and prints that look fresh and modern and styles that you would never find on the high street.
This thrift store is a favorite sourcing destination for film and TV stylists – it was one of the second-hand stores used to build the wardrobe of Marianne in the BBC's Normal People.
22. Mirth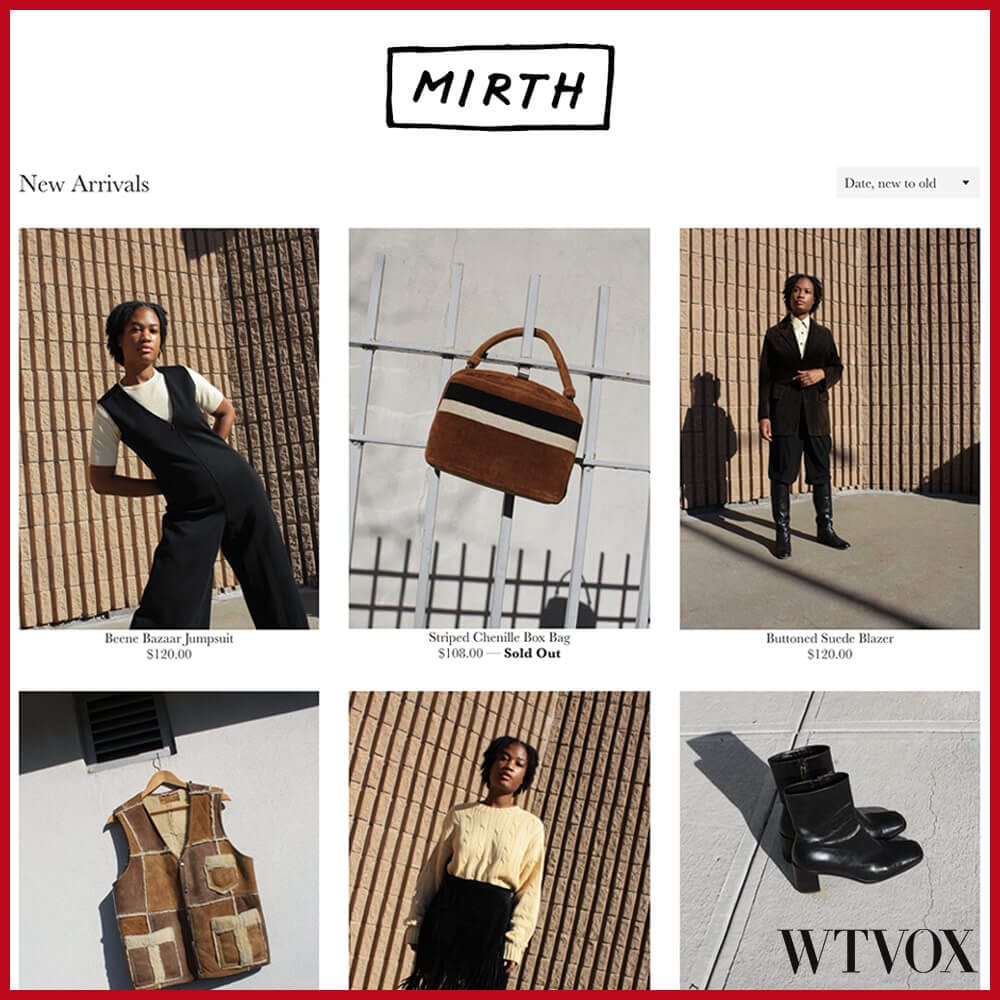 Mirth is an online thrift store with a deep focus on classic, timeless, and well-made pieces.
In addition to a large selection of clothing, accessories, and shoes from the early 20th century through the early aughts, this marketplace specializes in vintage denim.
For those in the US, the company also runs a physical store in Greenpoint, NY.
23. Swap
Featured by the likes of Vogue, The Today Show, and The Wall Street Journal, Swap is another affordable thrift store and second-hand clothing marketplace.
With over two million unique items, you'll find high-quality alternatives to buying a brand new for just about everyone in your family.
Orders over $60 come with free shipping, so it's okay to splurge just a little!
Not only will you look more fashionable than ever, but you'll be helping to recycle textiles and keep waste out of landfills.
24. One Scoop Store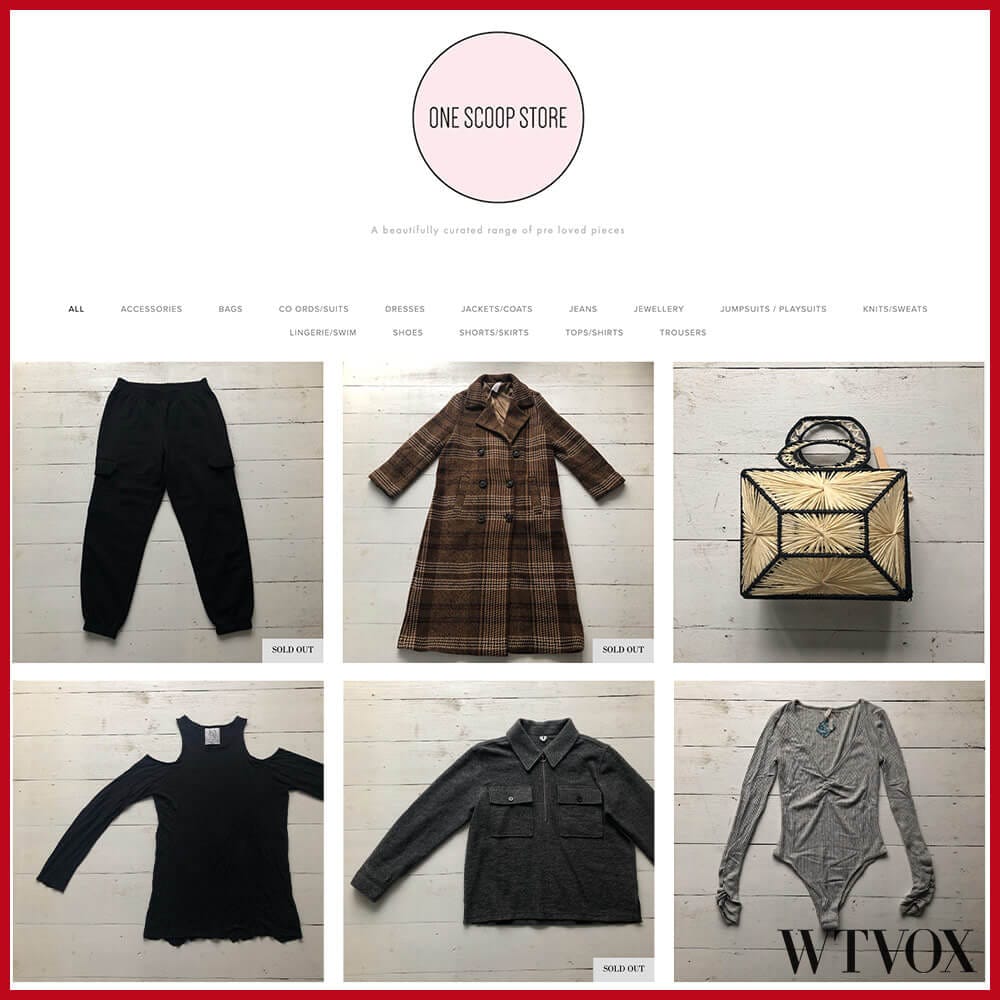 One Scoop Store's strength lies in its amazing level of curation.
Founded in 2017, this is an online thrift store that also runs an east-London shop.
The company is home to a wide range of labels, from Asos to Joseph and Isabel Marant.
While most secondhand shops are home to endless rails requiring hours of trawling to find the real gems, One Scoop Store only sells standout pieces.
Prices are super-affordable and you can be guaranteed to find some new linchpins for your wardrobe.
25. Build a Bundle
Build a Bundle is the best thrift store if you're looking for quality kidswear, for ages newborn to 16.
It includes often one-off buys such as fancy dress outfits and Christmas jumpers in its stock – pieces that are typically expensive and throwaway.
Prices are reasonable and items are shot flat, laid in a very clear way.
The average for a whole outfit is about £20 – a snip compared with the high street.
26. The Vintage Twin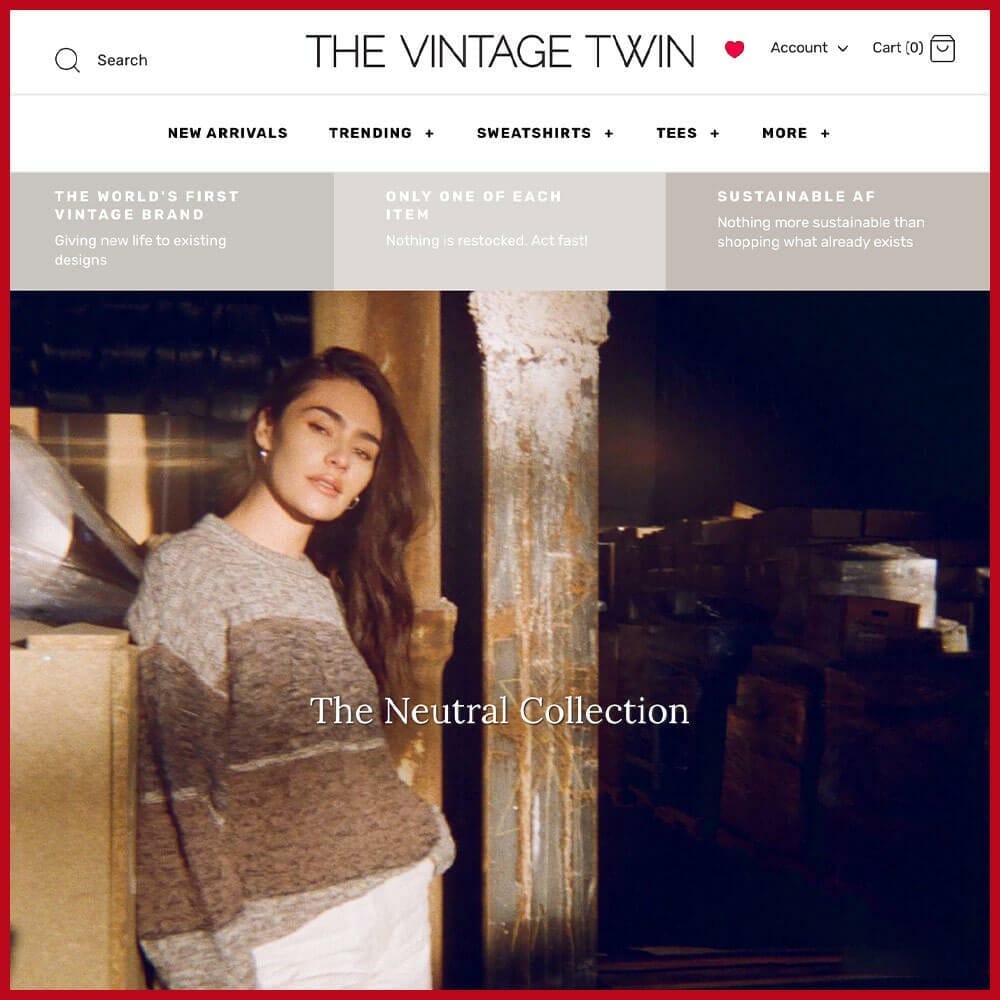 Co-founded by twin sisters, Morgan and Samantha Elias in their mom's basement, this thrift store sold out their vintage tee collection on its launching day.
Initially selling second-hand in the school campus, they went to NYC and opened one of the city's first pop-up shops.
The Vintage Twin does not have a large offering, yet.
But, this is a great place to start, if you're looking to buy to support the cause.
27. Still White
Still White is UK's largest online thrift store for wedding dresses.
The online shop gives people the chance to buy and sell used dresses at a fraction of the usual price (think £800 for a Jenny Packham dress that would retail at £2,800).
The filters allow you to look for a specific dress or designer (big-hitters such as Vera Wang and Monique Lhuillier have lots of listings) or browse by size and style.
Sellers will often chat through faults and how the dress has been stored.
They can also give details about alterations and care advice.
28. 2nd Street USA
2nd Street USA is a marketplace for fashionable clothing and accessories that are trending in Japan.
This is one of the best thrift stores if you're looking for unique items that can't be found just anywhere else, at a great value.
Some of my favs are the trending Japanese brands such as Bape, Undercover, Comme Des Garcons, Issey Miyake, and much more.
29. Hood Hippie
Hood Hippie is a blend of East meets West and a trip through time, a collection that effortlessly fuses a variety of styles and silhouettes.
Imagine that perfectly worn-in concert tee paired with classic denim or tailored slacks, a breezy bohemian Woodstock-era dress, or a funky 90's surf style button-down.
The Hood Hippie girl is a sartorial vision who never tries too hard.
You can find her skating from one destination to the next, or listening to a classic track while lighting one up.
She lives for margaritas, record stores, the coastal life, and chill vibes.
She's always stoked on the good life and ready for her next adventure!
30. Loopster
Loopster is an online thrift store for used kids' clothes, from newborn to age six.
Some of the most popular labels are Petit Bateau, Bonpoint, and JoJo Maman Bébé.
All garments are checked to make sure they are of sellable quality.
The site sells "bundles", offering better value for money for buying in bulk.
If you want to sell on Loopster, order a "Loopy clear-out bag" and send all your unwanted pieces to the site.
You will be offered a flat fee for each piece that sells, while anything not sellable can be returned or donated to charity.
31. Thrift.Plus
Hoping to become the Amazon of secondhand shopping, Thrift+ is all about speed and efficiency.
Hundreds of items are added each day and delivery times are swift (there is a 30-day return policy, too).
As a seller, half the profits are given to a charity of your choice (from an extensive list), with the rest given to you as Thrift+ credits or a John Lewis or Farfetch voucher.
Brands include designer labels such as Coach and Calvin Klein and high street favorites such as Arket and Cos.
32. What Goes Around Comes Around
What Goes Around Comes Around has made a name for itself as the destination for rare vintage finds.
It first opened in 1993 in NYC (with other locations in Los Angeles, Miami, and East Hampton) and has become the go-to spot for celebrities like Kendall Jenner and Kim Kardashian.
Come here first if you're looking to invest in a classic bag or piece of jewelry for less than its retail price.
The selections for accessories are top-notch, so don't blame me if you finally end up treating yourself to that dream bag.
Can't make it to one of WGACA locations? Check out their online thrift website for top goodies.
33. Poshmark
If you've ever thought of getting rid of that Madewell dress in your closet, you've probably used Poshmark.
While most people use the app as an easy way to get rid of their everyday clothes, the vintage section of the site is surprisingly incredible.
Sellers have listed everything from vintage jewelry to hand-knit crochet sweaters.
You can shop vintage on Poshmark in one of two ways: Thr0ugh its vintage tag or follow specific sellers whose collections you admire.
With over 2 billion users worldwide and almost 25 billion items uploaded per day, you can get lost in the seemingly endless pages of items for sale.
The app also hosts Posh Parties where sellers with similar items or themes come together to make selling items easier.
Most Posh Parties feature discounts on previously listed items, and this happens almost every day.
34. Mercari
Similar to Poshmark and Depop, Mercari is a thrift store that allows people to resel their clothing via an app.
Mercari's apps allow you to search fast in the marketplace's wide variety of brands.
Moreover, you can save your searches for later, if you're not sure what you want, or if you're not ready to buy yet.
35. Etsy
Etsy got its start as a small, crafty corner of the internet for enterprising creatives.
But it's since evolved into a global marketplace for millions of unique, one-of-a-kind pieces sourced from Bali to Boston.
Thanks to the best Etsy stores, you can pick up a handmade ceramic vase, three-foot stalks of dried pampas grass, made-to-order jewelry, an authentic Turkish kilim, and a vintage dress from the 1940s in a single shopping trip.
The vintage clothing and accessories collection in particular has exploded in the last few years.
Many independent thrift stores actually host their e-commerce on Etsy, so you can shop curated secondhand goods from Instagram-loved thrifting destinations and untapped sellers alike.
While shopping vintage on Etsy may not replace a Sunday afternoon spent digging through the racks at Salvation Army (a therapeutic treatment for the true vintage lover), thrifting online is a safe and socially-distanced alternative fit for these unprecedented times.
Conclusion
And there you have it!
These are just a few of the hundreds of online stores.
You can easily go down a rabbit hole on Instagram but these shops can't be missed.
What are your favorite thrift stores?