I hear you're into luxury fashion and want to make a switch for luxury vegan shoe brands.
Firstly, congratulations! That's a great choice, vegan footwear is in vogue right now.
So much so that to some, wearing a pair of vegan shoes is 'luxury statement' in itself.
A statement of respect for animals and the planet, as your choice to look good, depends on their welfare.
In fact, with the COVID-19 madness nearly over, you can see the world shifting towards sustainable fashion choices as well.
But, before we start, let's dispel some myths about luxury vegan shoe brands.
Vegan Luxury Shoe Brands – Not Equal
First and foremost, not all vegan shoes are equal. What does that mean?
Well, if you buy vegan shoes from a brand that's not entirely vegan, your shoes are not really vegan.
Why? Because on the same production lines, the brand processes animal skin and vegan leather.
That brand does not fight against animal cruelty, it is just greenwashing and misleading ethical customers like you.
Moreover, that's a bad move for your image, as true buyers of vegan luxury shoe brands will spot you from a mile and brand you as a fake conscious consumer.
Secondly, not all vegan shoes, even if they're made by certified vegan brands, are environmentally friendly.
Sustainable Vegan Leather Is Key
Some vegan-friendly materials (yes, you can call them vegan leather) are worse – when it comes to pollution – than leather made from animal skin.
Last but not least, not all vegan shoes are luxury and this is something that needs a bit of development.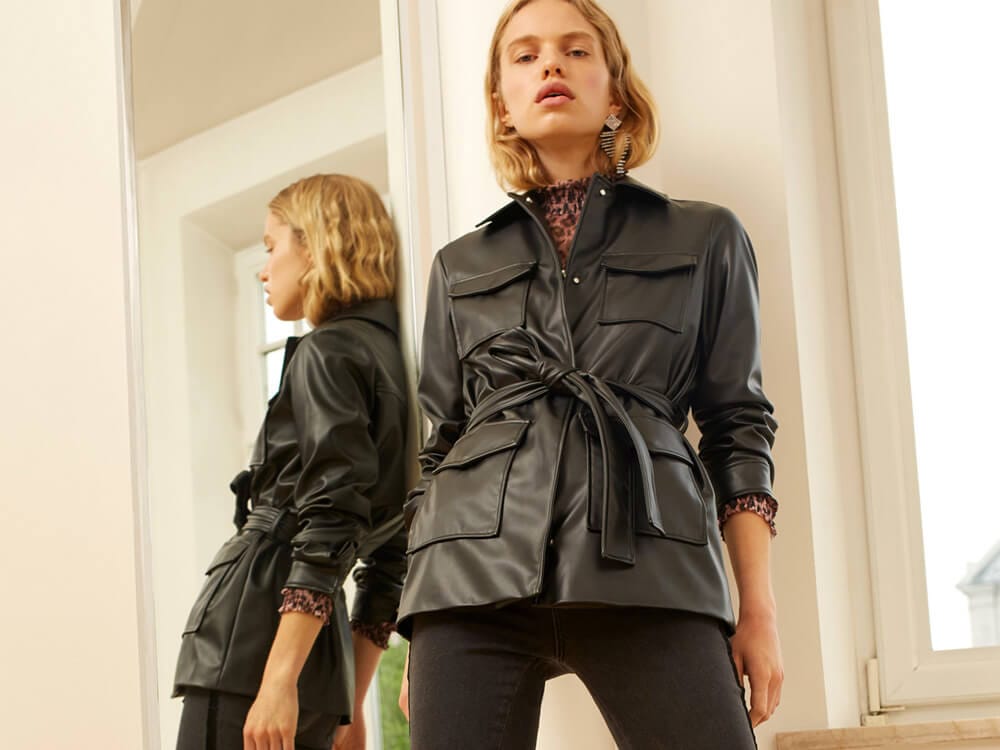 You see, the luxuriousness of a product is dictated by more than just its price.
In general, we are tempted to associate high price with luxury products.
But, not all luxury products have a high price. At the same time, not all expensive products are luxury.
True luxury is more about the uniqueness of the product and the rarity of materials used.
Luxury Is More Than Price
It is also about the history and heritage of the brand, and the craft of the artisans behind – in our case – these luxury vegan shoe brands.

However, as you've noticed by now, finding and trusting designers that make luxury vegan shoes is not an easy task.
Right now, you probably don't know more than two luxury vegan shoe brands. Do you? Give it a try.
I hear you say, Stella McCartney, Hiraeth, and…you've stopped. That's what I thought.
Well, it is not a problem if you do not know which shoe brands are vegan, luxurious and sustainable, all at the same time.
Vegan Luxury Shoes Brands
To introduce you to the world's most amazing designers pushing for a cleaner, cruelty-free fashion industry and a better world!
Before we start, it is important to know that apart from founding amazing luxury vegan shoe brands, these designers are doing daily charity acts as well.
Without further ado, here are five luxury vegan shoe brands, everyone is crazy about right now.
1. No One's Skin

The top number in my list is No One's Skin. The brand offers super rare stylish lines of vegan luxury shoes.
From heels for a glamorous night out, to slippers for super tranquillity at home and casual vegan wear on the city's busy (to be) streets.
Beyond Skin is one of those vegan luxury shoe brands that believe in eco-friendly and child-labour-free practices.
In fact, according to its founder, this is the reason for the brand name, Beyond Skin.
Moreover, apart from the full range of shoes available, the brand also has a superb blend of colours on sandals and heels, ready for the summer.
No matter what the occasion is, this vegan luxury shoe brand will have you feeling your best.
2. Blanlac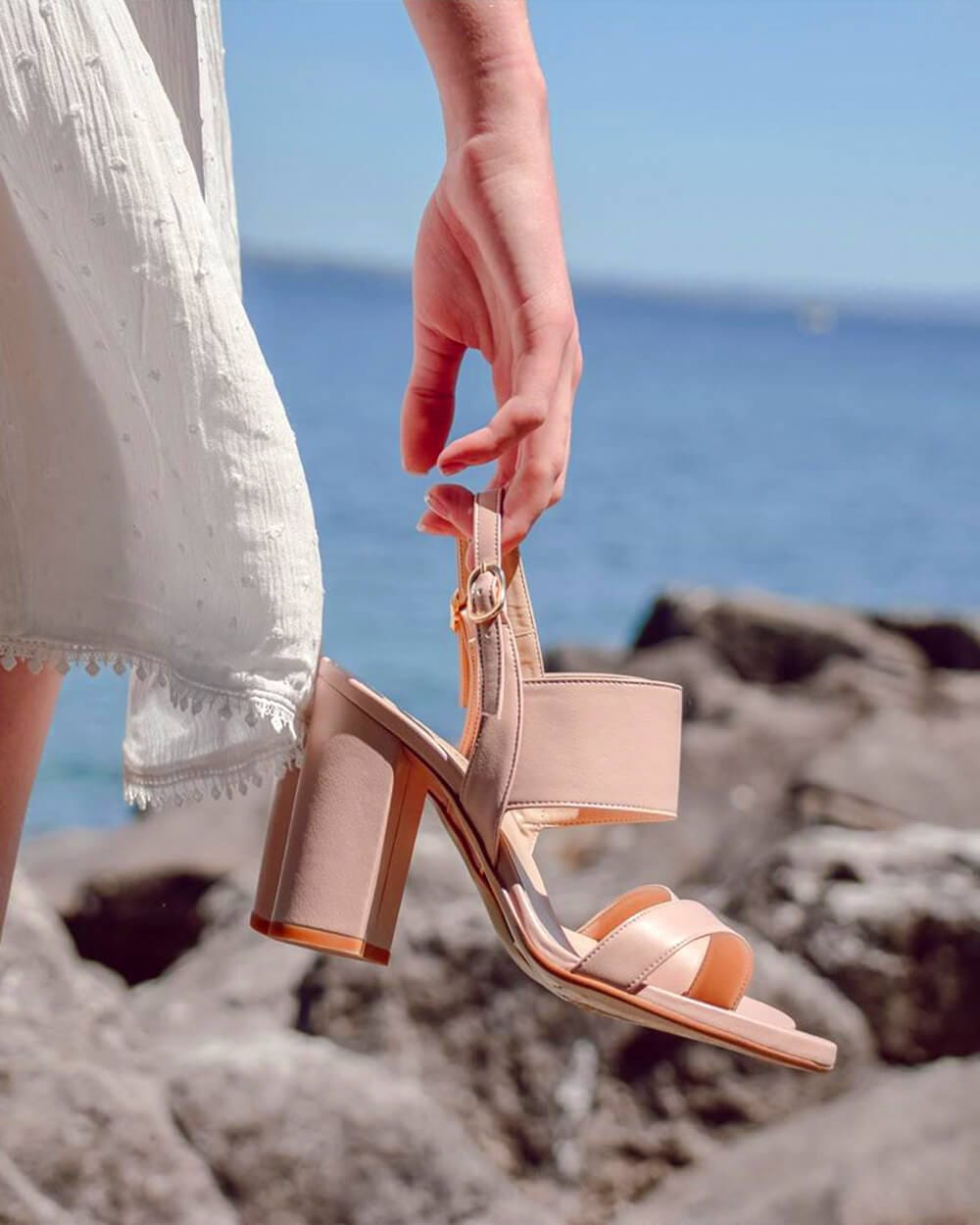 Blanlac is a family-run vegan luxury shoe brand.
All Blanlac shoes are ethically manufactured, in limited quantities.
The designer is carefully selecting, curating and even producing their own eco-friendly luxurious materials.
Blanlac range of luxury vegan shoes includes beautiful heels, sandals and ankle boots.
And, more recently, Blanlac has launched a dedicated line of vegan luxury accessories.
Belts, socks, cosmetics, and bags, beautifully designed to match with their exquisite collection of hand-made vegan luxury shoes.
3. Zoey Simone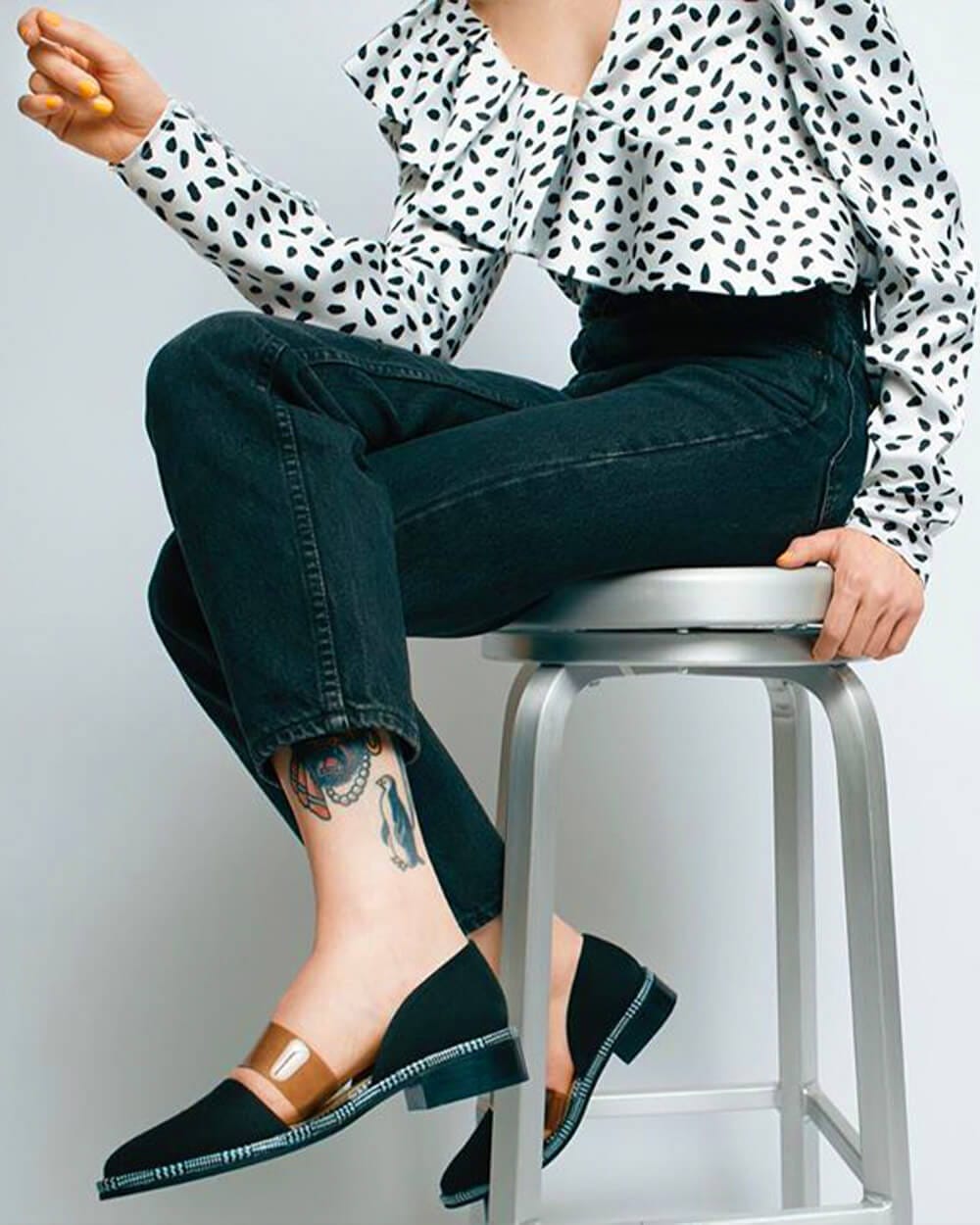 Zoey Simone is an American based designer label that creates phenomenal vegan luxury shoes.
The designer's vegan fashion concept embraces not only animals' well-being but also respect for people and the planet, as paramount elements of a conscious lifestyle.
Moreover, Zoey Simone has built many critical partnerships with multi-generational, expert shoemakers.
These people preserve traditional craftsmanship which translates into elegant creations of exceptional quality.
Ib fact, it is what's reinforcing the designer's commitment to a slow fashion approach.
4. Kweder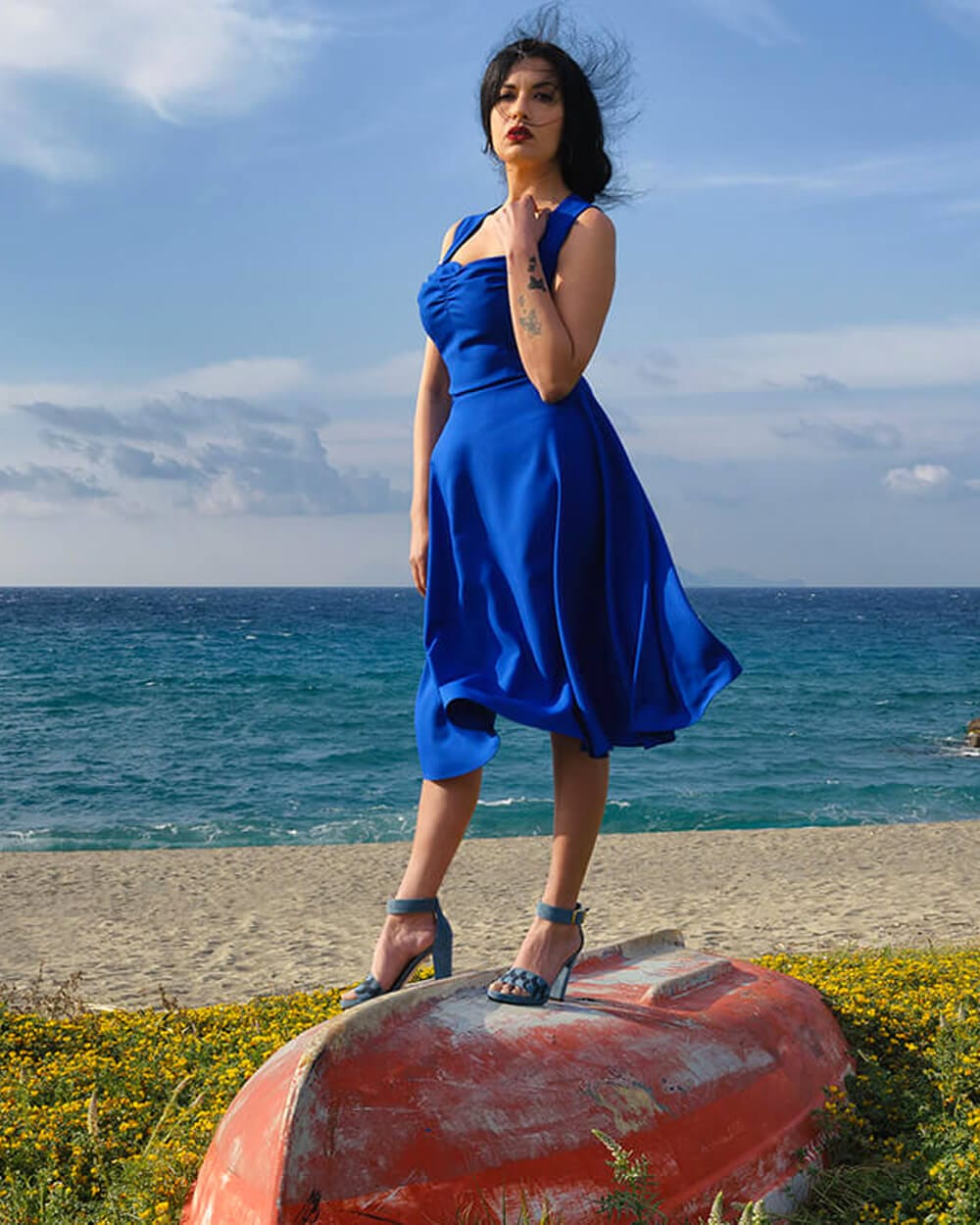 Since its inception, this Italian shoe designer label has been producing some of the most luxurious vegan loafers, heels, and pumps.
Because of its low pricing strategy, Kweder is not catalogued as a luxury vegan shoe brand.
And yet, this vegan label Run by three sisters, uses some of the most luxurious and eco-friendly materials in their collections.
Often made from rare blends of plant-based leathers and cork, Kweder shoes are designed to make you stand out from a mile.
Moreover, when you choose Kweder you also save animal lives, reduce waste, and keep the environment safe.
5. Balluta
Balluta is one of those rare luxury vegan shoe brands rising from the ever sunny and happy country of Portugal.
Creatively led by Catarina Pedroso, a Portuguese artist and fashion designer, Balluta shoes are clear statements of sophistication and opulence.
Balluta luxury vegan shoes are imbued with an adventurous, timeless and hypnotic spirit of extravagance and futuristic arrangements.
Almost like mystical fragrances for the soul, Balluta's rare shoes are ethical, eco-friendly, and cruelty-free.
These are high values of emerging beauty, of both, style and one's soul.
Beauty gorgeous blend of traditional concepts, alternative materials, and choice for local craftsmanship.
It is the beauty of luxury vegan shoe brands, here to redefine the essence of conscious fashion.
WTVOX – 'Voicing the Future of Fashion'
For more similar content and lightning-quick updates delivered directly to your inbox subscribe to our weekly newsletter.
For daily news in sustainable fashion, innovation, conscious beauty and lifestyle follow us on social media: Instagram, LinkedIn, Facebook, Twitter.
Finally, if you want to interact with thousands like you, join your tribe on the Future of Fashion Group.
A decade of fashion; here's to the next one.
The past decade has been turbulent – and defining – for fashion: child labour, climate crisis, gender inequality, animal cruelty, and reckless plastic pollution, just to name a few.
At the beginning of this decade, the COVID-19 pandemic gave us a glimpse into the future of fashion:
If not ethical and sustainable, it will soon be 'all-digital'.
That's why finding media that covers the intersection of fashion with innovation for a sustainable future is so critical right now.
Finding media that informs all, without paywalls, is even harder, especially now in times of social media misinformation.
Free from the fashion agenda.
Your unceasing support has allowed us to keep delivering trustworthy, relevant, and high-quality content.
Your support has allowed us to uphold our editorial independence and ensure honest journalism, free from the fashion agenda, pressure, and political games.
We are deeply grateful for your generosity and continue to count on your support.
Thank you.