Once a pioneer of the 3d printed clothing movement, Iris van Herpen has become a world-renown designer worn by the world's most famous celebs.
Van Herpen's fascinating creations have enchanted the fashion world since 2010.
Shortly after, in 2011, an innovative brand named 'Continuum Fashion' attempted to mainstream 3D printing clothing with their 3D printed bikini, as alternatives to the classic swimsuits.
Other designers followed such as Danit Peleg who attempted to show the world that 3D print clothes at home is the next big thing in fashion.
However, it was Julia Daviy's zero-waste 3d printed clothing collection of fully customizable skirts, that let us see the full extent of this innovative technology.
On the 6th of September, Daviy launched her own line of 3D-printed garments named 'The Liberation Collection' at the New York Fashion Week.
'The Liberation Collection' was hailed as the first full women apparel collection manufactured utilizing only 3D-printing technology, to be ever unveiled at a Fashion Week in the United States.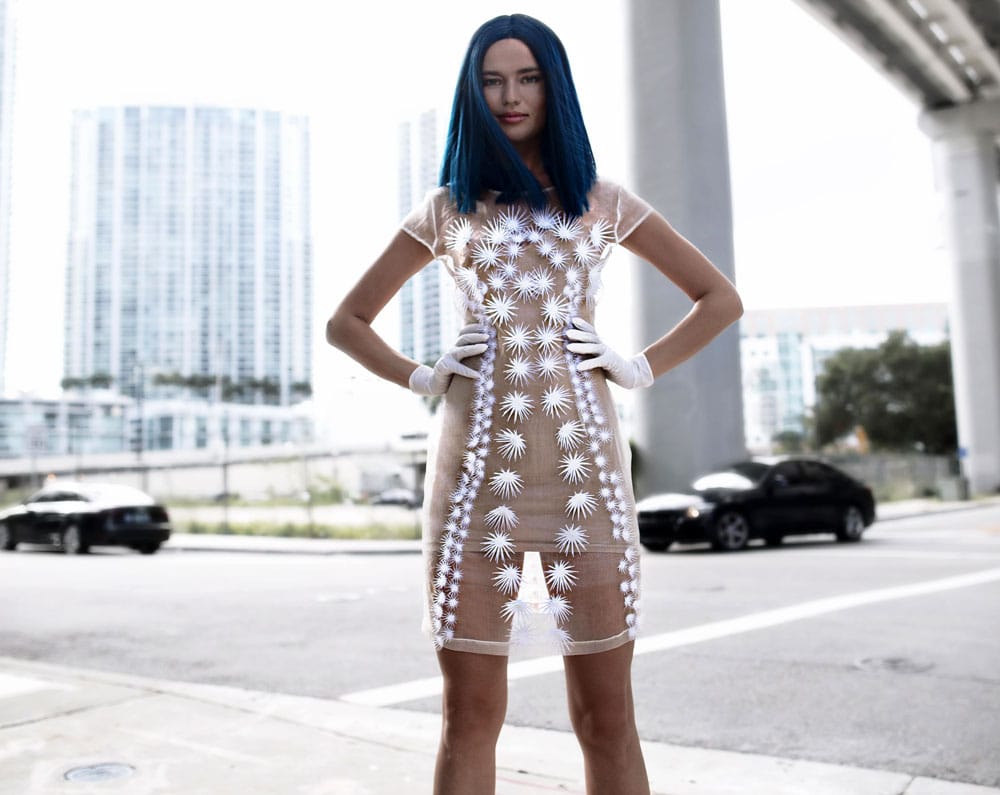 After 'Liberation Collection', launched in 2018 at New York Fashion Week in 2018, Julia Daviy became obsessed with the idea of making 3D printed clothing commercially available.
"It was critical to simplify digital customisation and 3D print wearable clothing with flexible materials. We've accomplished that, and I think that consumers will respond fast," said the designer.
Weekly Newsletter. Sign Up Now!
Celebrities, designers, and latest news in sustainable fashion.
"Our goal was never to demonstrate the viability of 3D printed clothing and leave things at that. We'll have succeeded when beautiful, comfortable, ethically manufactured and environmentally friendly clothes are the standard," she added.
With a patented technology that uses 100% recyclable filaments, Julia and her team can meet the most exigent customer demands.
The team is being able not only to create highly customizable 3d printed garments according to consumers' needs but also apparel of zero-waste for a cleaner and more sustainable world.
Once the customers finalize their choice for a garment's pattern, style, color, waistline, and lining, Daviy and her team use the information to create a digital model of the garment.
Once modeled, the creation is approved by the client and sent to the 3D printers. The final product takes around ten days to complete.
3D Printed Sustainable Fashion – Lesser Pollution and Waste
Daviy's innovative 3D printed wearable tech-infused collection signals a growing focus on the potential of mass manufacturing fashion garments with the help of additive manufacturing.
Garments that not only replace the old petrol-based textiles with sustainable textiles and leather alternatives but also contribute to a cleaner environment by causing lesser pollution and waste during the manufacturing process.
"I wasn't that focused on the design of the collection but more obsessed with how to implement a more sustainable approach in the clothes I was about to create," said the innovative fashion designer.
3D Printed Clothing – Sustainable Potential
With the help of TPU materials and flexible resins, churned into large-format FDM 3D printers based on SLA technology, Daviy hopes to contribute to the less wasteful and more ethical fashion movement.
"There is a huge potential for the market of innovative, sustainable clothes, thanks to the wide range of technologies combining knowledge and expertise," she added.
Daviy is also fascinated by the movement toward intelligent garments and apparel following the advent of smart sensors and wearables technology.
In fact, this is was first attracted her to the 3D printing technology and its immense potential for the market of sustainable apparel.
"Nowadays we can create clothes similar to leather, but with 3D-printing technology embedded with smart sensors and this collection is the perfect example."
3D Printed Clothing – Limitless Customization
Daviy's designs for her New York Fashion Week collection were inspired by coral and shells and other exoskeletons patterns found in the marine life, which – according to her – was possible thanks to the limitless approaches the 3d printing manufacturing has to offer.
"3D printing allows the designer to control the thickness, shape, colour of the product. In fact, with 3D printing I can create any shape, on any type of pattern, from [almost] any kind of material " she said."
The time to say goodbye to leather in fashion has come. Not only that using leather for garments is unethical, but it is also old-fashioned.
And if you're still obsessing about rare animal skins, why kill a crocodile when you can download and use a crocodile pattern and then just 3d print it on any material you want?"
We've heard some rumors that the next innovation in 3D printing fashion apparel includes some filaments made from biodegradable materials…
Interested to know more? Subscribe now to be in the know before the news become mainstream!