While adding those highlights boosts your overall look, caring for bleached hair in a sustainable way is the key to your beauty.
It's important to know that bleaching has a downside: it will make your hair dry.
If you plan to bleach your hair, then you must be ready to develop a whole hair routine.
Regardless of its type, once bleached your hair will require extra moisture if you want to retain that healthy hair look.
Moreover, there are a few mistakes that you have to avoid as these will make the hair look lifeless and thin.
So, read on and find out about how to care, in a sustainable way, for your freshly bleached hair!
Hyaluronic Acid To Rescue Hair
You are probably wondering if there's any hyaluronic acid in hair products.
Good questions as most of us see hyaluronic acid as an ingredient meant to hide your wrinkles.
But, skin this isn't the place of use for this wonderful ingredient.
A good hyaluronic acid has the power to attract moisture and lock it in, which makes it the ultimate moisturising ingredient.
The most common problem with bleached hair is that it is dry and dehydrated.
It needs a powerful dose of moisturising agents to bring it back to life.
So when you're looking for a hyaluronic acid-based ingredient make sure you choose from sustainable sources, and only according to your hair type.
Professional Bleaching Is Key
Bleaching at a pro hair salon might seem too expensive.
For that, many of you will try to bleach your hair at home, to save money.
But, when it comes to bleaching, this is where you should stop.
Unlike hair dyes, any products used to bleach hair should be handled only by professionals.
Weekly Newsletter. Sign Up Now!
Celebrities, designers, and latest news in sustainable fashion.
Research shows that in 89 per cent of the DIY cases, the hair bleaching ended up in a disaster.
In half of the cases, there were wrong products used.
Then, in a second close there was a wrong ratio (despite the indications on the packaging) can burn the hair and caused serious damage.
For that, it is always better to leave such a delicate job in the hands of a professional.
Moreover, it is very hard to find a good quality organic bleach so you'll have to rely on a specialist for this.
Heat Is The Enemy
Even if you have bleached your hair at the hair salon, keep in mind that it will still become dry.
However, there are some tips you must follow to make sure you don't make it even drier.
The drill here is to stay away from any kind of heat.
For once, you should avoid styling with too much heat.
Set your blowdryer on the lowest or turn on the cold air feature.
Second, there are alternative ways to style your hair, without causing heat damage.
I will detail the second point in my next article.
Hair Mask Love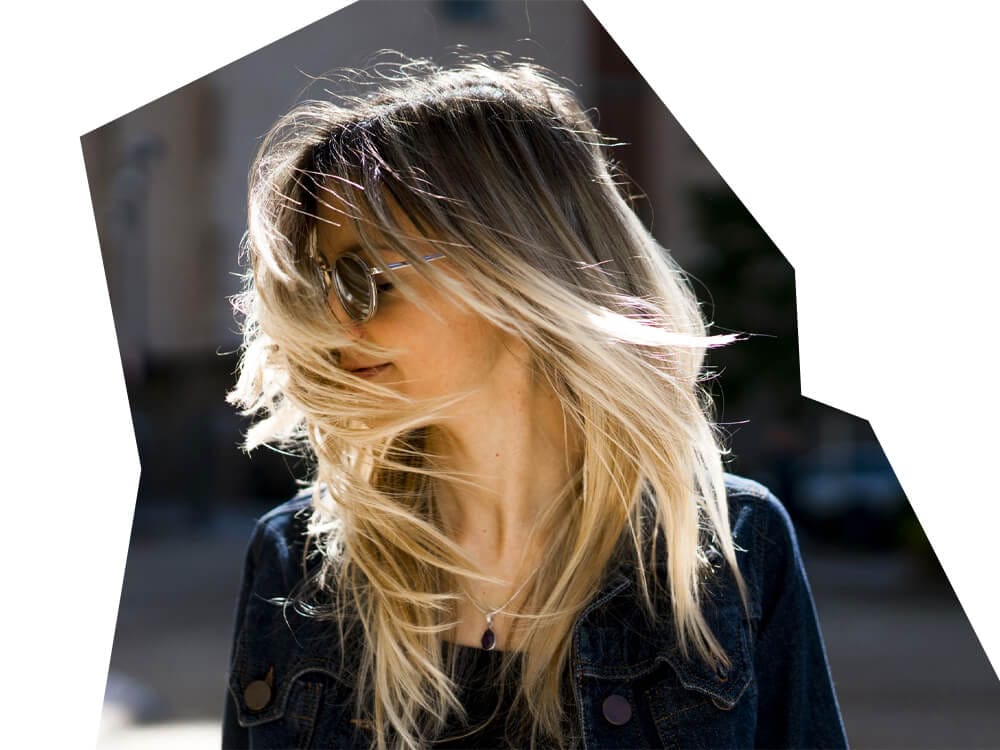 Many of us never used a hair mask.
It felts unnecessary, heavy, or even too ugly to put up with it.
But, to care for your bleached hair in a sustainable way, natural hair masks are the best.
Nowadays, with all the stress and chemicals we put on our hair, once a week hair mask treatment is a must.
Whether you think that it will make your hair greasy or you are feeling too lazy to do it, stop now.
Your dry bleached hair needs all the moisture that it can get.
Now, if you're trying to save some money, the old good coconut oil is here to help.
Start your own make coconut oil treatment and apply it once a week to see excellent results.
Only Products For Colour-treated Hair
There is a reason why a whole rack with 'colour-treated' hair products exists in all shops and supermarkets.
If hair dyes require maintenance, imagine the maintenance needed by your hair after bleaching.
Unlike the coloured hair, bleached hair has special requirements.
After bleaching the hair will tend to grab some brassiness which will make it look old and unhealthy.
To counterattack that you'll need special shampoos that will keep the yellow tone away.
These shampoos have a purple tint that will neutralize the yellow tone and give your hair an excellent finish.
Check all those specialized colour-treated hair products to find the ones that work the best for your hair.
Moreover, make sure you always choose sulfate-free, natural and organic shampoos for healthier scalp and hair.
Sulfates tend to be too aggressive at removing the oils from your hair and with each washing, your hair will become drier.
Conclusion
We, women, love to look good and be desired. Yet, if not careful, our attempts could end up in a disaster.
With the hope my tips for a healthier – after bleaching – will serve you well, would love to see your comments below with your favourite organic hair bleaching brands.
Weekly Newsletter. Sign Up Now!
Celebrities, designers, and latest news in sustainable fashion.
WTVOX – 'Voicing the Future of Fashion'
For more similar content and lightning-quick updates delivered directly to your inbox subscribe to our weekly newsletter.
For daily news in sustainable fashion, innovation, conscious beauty and lifestyle follow us on social media: Instagram, LinkedIn, Facebook, Twitter.
Finally, if you want to interact with thousands like you, join your tribe on the Future of Fashion Group.
A decade of fashion; here's to the next one.
The past decade has been turbulent – and defining – for fashion: child labour, climate crisis, gender inequality, animal cruelty, and reckless plastic pollution, just to name a few.
With the COVID-19 pandemic, the beginning of this decade does not look too good either.
That's why finding media that reports with rigour and integrity at heart is difficult in critical times.
Finding media that informs all, regardless of where they live or if they can afford to pay, is even harder.
In these times, independent fashion media magazines are increasingly silenced by commercial ownership and social media misinformation.
So far, your unceasing support has allowed us to keep delivering trustworthy, relevant, high-quality content.
Your support allowed us to uphold our editorial independence and ensure honest journalism, free from commercial ownership or political bias.
We are deeply grateful for your generosity and continue to count on your support.
Thank you.