Is there a place for vegan and cruelty free makeup brands in this world?
Yes, more than ever, as consumers are increasingly aware of the problems caused by the beauty industry.
When it comes to cruelty-free makeup brands, consumers' position towards animal welfare is at its highest, to a point where labels have started to put an end to product testing on animals.
As a direct result, more cruelty-free and vegan beauty brands are launched every day.
In support of them and you, the ethical consumer, I'll introduce you to the best vegan and cruelty-free makeup brands approved by stylists.
There's no need to compromise again – look fabulous while upholding your moral stance.
1. E.L.F. Cosmetics
If you're looking for a flawless finish, this is the brand for you.
E L F Cosmetics' stands for "Every eye, Lip, and Face."
From all the vegan brands on this list, E L F Cosmetics has, in my opinion, the best eye shadow out there.
From the brand's extensive range, the best selling products include the Liquid Matte Lipstick, Contour Palette, the Baked Highlighter, and pigmented lipsticks.
You'll find gift sets and makeup accessories such as sponges and brushes.
They also have a whole skincare line of moisturizers, makeup remover, and hydrating masks.
You can indulge and pamper yourself with E.L.F. products without breaking the bank!
2. Herbivore Botanicals
Chances are you've seen Herbivore's gorgeous packaging while scrolling Instagram, but the brand has more to offer than just being extremely photogenic.
It was founded by a couple – in their kitchen – dedicated to creating products with no filler.
That's why, every ingredient has a purpose in Herbivorer's products.
The result? Super-potent skincare products, from organic, food-grade ingredients.
Its range of oils put Herbivore on the map, but we especially love its exfoliators.
Try the 'Blue Tansy Resurfacing Clarity Mask' for serious exfoliation with a side of skin-soothing ingredients or the 'Prism Exfoliating Glow Serum' for a more gradual glow.
3. Code Beautiful
Back in 2014, when Code Beautiful was launched, it was one of the few beauty brands that could say it is 100 percent free from animal ingredients.
Ever since, the brand keeps innovating and creating new products such as CODE FFL (Forget Fake Lashes), a pre-mascara plumper that's going to fatten and lengthen your lashes to the next level.
Granted, Code Beautiful doesn't have an extensive offering, but that's good.
It means more care's gone into creating the star products you'll find in its online store.
4. FLOWER Beauty
Started as a passion project by the American actress Drew Barrymore, FLOWER Beauty is a cruelty-free makeup brand of the highest quality.
I've found all Flower Beauty products to have an affordable price.
Moreover, I love that the label donates parts of the profits to female empowerment causes.
So if supporting other women and animal welfare resonate with you, make sure you choose Flower from now on.
5. Rare Beauty by Selena Gomez
With a stunning vegan makeup line, Rare Beauty by Selena Gomez has a great goal in mind.
When interviewed, Selena said that the brand exists to break down unrealistic perfection standards.
The colors are soft and natural, delicate, and beautiful.
Rare Beauty comes in a wide range of products like liners, carmine powder, foundation, lip soufflés, and more.
6. Illamasqua
Illamasqua is a certified cruelty-free makeup label by the People for Ethical Treatment of Animals (PETA).
"Beauty, not brutality," shouts on Illamasqua's official website.
Recognized by PETA, this cruelty free makeup brand is proud to have an extensive, ever-growing vegan range.
Illamasqua is a trendy cruelty-free makeup brand known worldwide for its passionate support for animal welfare and other related causes.
The brand does not test on animals, and it always makes sure that all of its products are one hundred percent cruelty-free.
I've used Illamasqua for the last three months, and my ten has changed so much, I can't recommend the brand enough.
If you're new to Illamasqua, you'd probably want to start with their liquid lip polishes, which also include vegan options.
You can select a matching hue from fourteen options, grouped into pink, crimson, or dark shade classes.
Also, consider giving their veil primer a try; it is a healthy mix of plant extracts and minerals, designed to keep your skin hydrated, fresh, and ready for foundation treatment.
7. Urban Decay (Owned by L'Oreal)
Urban Decay markets itself as bold and edgy, but they also have a ton of neutrals and staple products.
I find 'Eyeshadow Primer Potion' very suitable for oily lids.
Also, I've found the 'All-Nighter Makeup Setting Spray' as the best setting spray around, especially for oily skin.
Super-pigmented and buttery eyeshadows are available in bold and vibrant colors or neutral shades, as's the case with the 'Naked' palettes.
Important note:
While Urban Decay is cruelty-free and Leaping Bunny-certified, the parent company, L'Oreal, still tests on animals.
8. Bite Beauty
For all the lipstick collectors out there, this one's for you.
'Bite' is hyper-focused on lip products, although it now offers a few complexion products.
I think this label makes some of the best lipsticks ever that happen to be vegan, clean, cruelty-free, and gluten-free.
The lipsticks are intensely pigmented yet comfortable to wear.
Also, the lip balms can soothe even the most chapped lips.
The 'Power Move Creamy Matte Lip Crayon' is a great starting point, as is the Agave+ Intensive Lip Mask.
Keep in mind that while everything in the range is vegan, not all the lipsticks at the Lip Labs are.
9. Burt's Bees
Here's another brand that makes terrific cruelty-free makeup.
Burt's Bees makeup brand is certified by PETA for using only natural products, of course, with an accent on bees products.
The brand does not test on animals and strives to ensure that its cruelty-free makeups contain only organically sourced and sustainable ingredients.
If you love your skin, you have to give Burt's Bees a try.
10. Fenty
While Rihanna's makeup collection can't be considered entirely free of animal by-products, there are some pieces that the brand promotes as vegan-friendly:
Some of the best are: 'Match Stix Matte Skinsticks', 'Invisimatte Blotting Powder', 'Gloss Bomb Universal Lip Luminizer', and many of the brand's brushes free from animal hair.
The brand's chief chemist is against testing products on animals and obsesses over creating only natural makeup.
Most bases found in Fenty's animal friendly makeup such as brow pomade, powder foundation, and matte bronzer contain everyday minerals, argan, and organic coconut oil.
11. Biossance
Science first here at Biossance, as all products are based on squalane.
This is a synthetic product similar to squalene, a natural lipid version found in our skin.
Because it's so close to what our skin produces, the organic makeup locks in hydration without clogging pores.
Most brands extract squalene from shark liver or olives, but Biossance created a form made from sugarcane to be as sustainable as possible.
The skincare range is made of easy-to-use essentials that tackle dryness, acne, and dark spots while using clean ingredients.
The brand's 'Squalane + Vitamin C Rose Oil' is perfect for weightless moisture and glowing skin.
I also recommend the 'Squalane + Tea Tree Detox' mask, for its power to decongests pores without stripping.
12. Ciate
Ciate was founded initially as a nail brand, in 2009, by the celebrity nail technician Charlotte Knight.
Since then, Ciate has successfully expanded to become one of the world's most renowned vegan makeup brands.
PETA certifies Ciate's vegan and cruelty-free makeup products, so make sure you give them a try.
I adore Ciate for their wide range of makeup, particularly their everlasting liquid lipstick and life-changing lip glosses.
13. Pacifica
Another affordable option, Pacifica offers a massive range of vegan cosmetics, skincare, nail polish, hair products, and body care.
Pacifica is nature-inspired, from the ingredients to the shade names, and has a feminine, dreamy vibe.
The offerings are so expansive, you could get everything you need there, but we recommend starting with the super shimmery 'Get Lit Multi-High Light' or the 'Lavender Moon' body lotion.
The brand is also earth-conscious, thanks to its excellent recycling program.
14. Summer Fridays
Founded by two S.M. influencers, it's no surprise that 'Summer Fridays' became an Instagram sensation overnight.
The brand is known for its insanely chic masks and specific products that promise glowing, radiant skin.
The brand is vegan, cruelty-free, plastic-free, and has some of the best products out there.
Pretty much everyone agrees that the 'Jet Lag Mask' is the star of Summer Fridays: It gives you bouncy, dewy skin in minutes.
But you also can't go wrong with the 'CC Me Serum'.
While packed with vitamin C, this serum is gentle enough for even super sensitive skin without sacrificing any brightening power.
15. NARS (Owned by Shiseido)
Known for pigmented products and rich colors (on the shimmery side), NARS is cruelty-free, although its parent company Shiseido is not.
NARS blushes are fantastic and very pigmented, and the 'Orgasm Blush' shade is a cult favorite that works with every skin tone.
Also, if you need high-coverage, try the NARS 'Radiant Creamy Concealer'.
Their newest lip products are also getting a lot of hype lately.
16. ColourPop
ColourPop is a vegan makeup brand founded in 2014 by Seed Beauty.
The company markets itself as a 'Proudly American cruelty-free and vegan makeup brand.'
It also calls itself a "wallet-friendly and bunny approved" brand, in reference to its ethical practices.
"We test our products in the nicest way possible, leaving fur babies to be fur babies and experimenting on people instead," reads the official website.
17. Tower 28
Tower 28 is a relative newcomer in the clean-beauty space.
The brand launched in 2019, but that hasn't stopped it from becoming a customer's favorite, thanks to its low-maintenance vegan formulas.
Everything is made with sensitive skin in mind since the founder has had eczema her entire adult life.
I love Tower 28 for being up to the latest E.U. regulations and the National Eczema Association's ingredient guidelines.
In fact, this is the only mass makeup brand on the market to do so.
Moreover, all products are hypo-allergenic, non-comedogenic, and dermatologist tested.
My Tower 28's hero product is the non-sticky 'Shine On Lip Jelly' and their latest launch, 'Bronzino', a bronzer that you're going to love.
18. Hourglass
Revered as a high-end cruelty-free makeup brand, Hourglass has gained global recognition thanks to its brilliant products.
But, more than being a leading vegan makeup brand, the company has another reason to be in the spotlight.
The brand refuses to sell products to countries that require animal testing.
The brand's choice to sell to certain countries reminds me of the ever so unique, Limited London luxury fashion label.
The London-based label only makes unique fashion pieces, all by hand.
It also avoids shipping abroad to reduce waste, pollution, and CO2 emissions.
Once create and purchased, the product is shipped by bicycle or on foot, and only in London.
But, Limited London is a different story that deserves a full article.
19. Aether Beauty
I bet you didn't know this brand infuses crystals into their products. Yes, real crystals.
The reason? To increase the shimmer and glow, of course!
Aether Beauty is a vegan and organic company that uses only the cleanest ingredients.
So much so that the brand had to ban over 2500 environmental offenders from their products.
Moreover, the brand uses recycled materials to make all of their 100 percent packaging recyclable.
20. Farsali
Farsali is beloved by beauty vloggers for its innovative skin-care-meets-makeup formulas.
The products are clean, vegan, and cruelty-free, and flawlessly incorporate Instagram trends like unicorn beauty and glass skin into multi-use formulas.
While the line features a lip mask, eye cream, and gel cream, its bread and butter are the serums that combine skincare and makeup primers.
The 'Rose Gold Elixir' was an early hit on Instagram thanks to the antioxidant-heavy formula and the instant glow it provides (the real gold flakes are also a draw).
If you have oily skin, give the 'Liquid Powder Oil Balancing Serum' a try.
It'll mattify your skin without any cakey-ness.
21. Barry M
The multi-colored vegan brand Barry M is loved by expert makeup artists worldwide, and for a good reason.
I've found Barry M to have some of the highest quality cruelty free and vegan makeup products, lasting for ages.
According to the company's official site, the brand does not test on animals:
"Here, at Barry M, we love cosmetics. But we love animals more."
22. Milk Makeup
Milk Makeup is a new vegan makeup brand available at Sephora.
Milk Makeup label is all about 'quick makeup' from natural ingredients.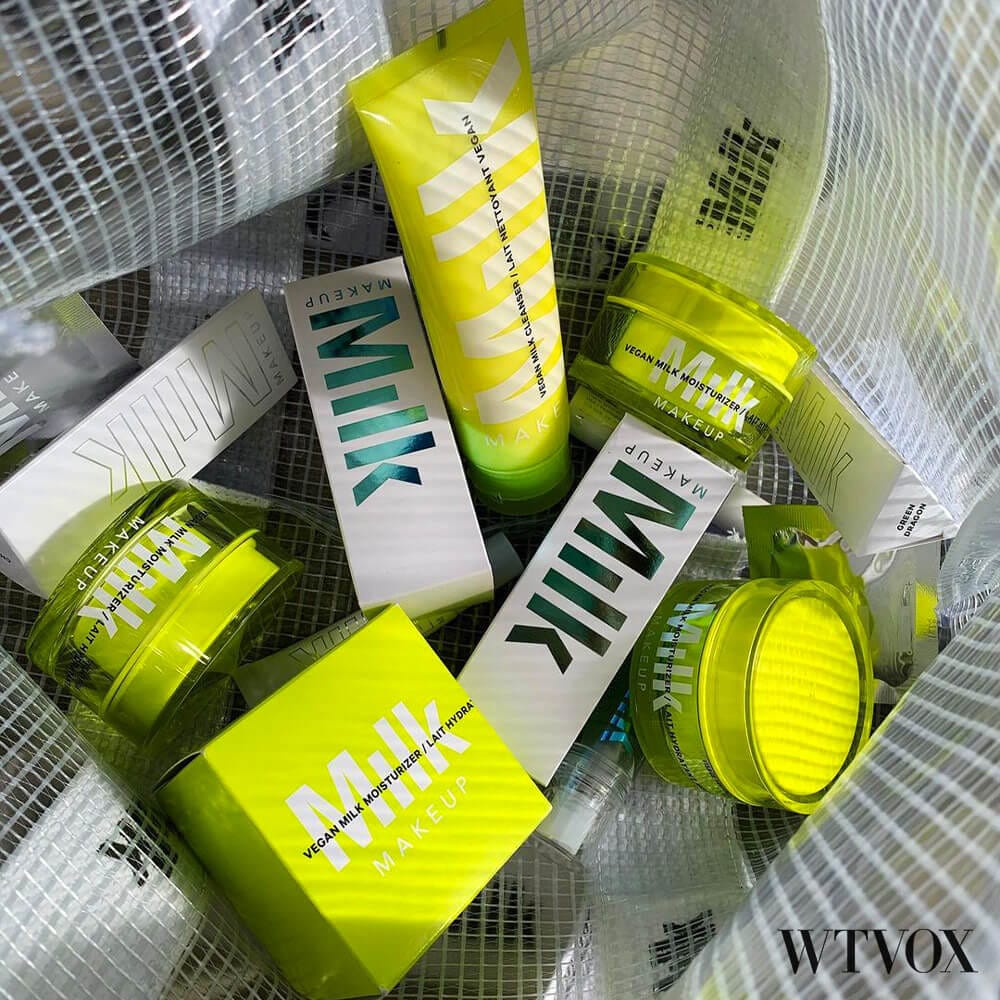 While the company has many creams and stick products, like the 'Lip + Cheek' stick, they also have foundations, concealers, and blush products to complete your beauty kit.
Also, try their setting sprays designed to help your freshly crafted look last from dawn to dusk.
23. Cover F.X.
Looking for radiant glowy makeup that's vegan too?
Then you must try Cover F.X., whose dazzling 'Custom Enhancer Drops' are fabulous.
Use the integrated pipet to mix a few – and we mean only a few because each pack a blinding gleam of light – drops into your foundation.
For an all-over glow or sparingly pat along the top of cheekbones for instant highlight.
As well as fully vegan and cruelty-free, the brand has a long-standing commitment to 'clean', organic ingredients.
Thus, you won't find talc, parabens, scent, mineral oil, gluten, sulfates, or phthalates in any of their products either.
24. Jeffree Star Cosmetics
Jeffree Star is a famous YouTuber, with millions of fans tuning in to watch his tutorials and learn about the latest products.
And I wonder, which other makeup brands offer such an interactive experience?
The Jeffree Star's makeup line is 100 percent cruelty-free and vegan.
The prices are mid-range, and bestsellers include the vegan eyeshadow palettes and concealers from unique pigments such as 'Diet Root Beer' and 'Cry On My Couch.'
But, what makes this brand unique is the overall aesthetic and colorful packaging that has featured magic wands, rainbows, and even pigs.
25. Marc Jacobs
Marc Jacobs Beauty arm is named after the creator and visionary designer behind the label with the same name.
Even from the beginning, the brand wanted to inspire buyers to "push boundaries" and create their fashion style.
Similarly, Marc Jacobs cruelty free makeup and beauty products are of the highest quality.
The brand states on its website:
"Marc Jacobs Beauty is a cruelty-free makeup and cosmetics brand. We never test on animals or use ingredients tested on animals, nor do we ask vendors to test on our behalf."
26. Tarte (Owned by Kose)
Tarte offers makeup free of parabens, synthetic fragrances, petrochemicals, G.M.O.s, and gluten.
Their 'Amazonian Clay 12-Hour' blushes are super-pigmented, long-lasting, and non-chalky.
I especially love their shade 'Exposed' because it works with ANY eye and lip look!
You might want to check out their 'In Bloom' palette, which has been getting a lot of love more recently.
27. Anastasia Beverly Hills (ABH)
As a curiosity to some, but based on ethical considerations, Anastasia Beverly Hills is not sold in China.
And yet, this is a brand loved by celebrity makeup artists and beauty enthusiasts from all over the world.
If you're not familiar with ABH's 'Golden Ratio Method', you'll be impressed by its line of brow pigments, lipsticks, and highlighters.
Sought all over the world, ABH's most substantial offerings are the 'Norvina Pro Pigment Palette', a twenty-plus shade palette with cruelty-free and vegan credentials.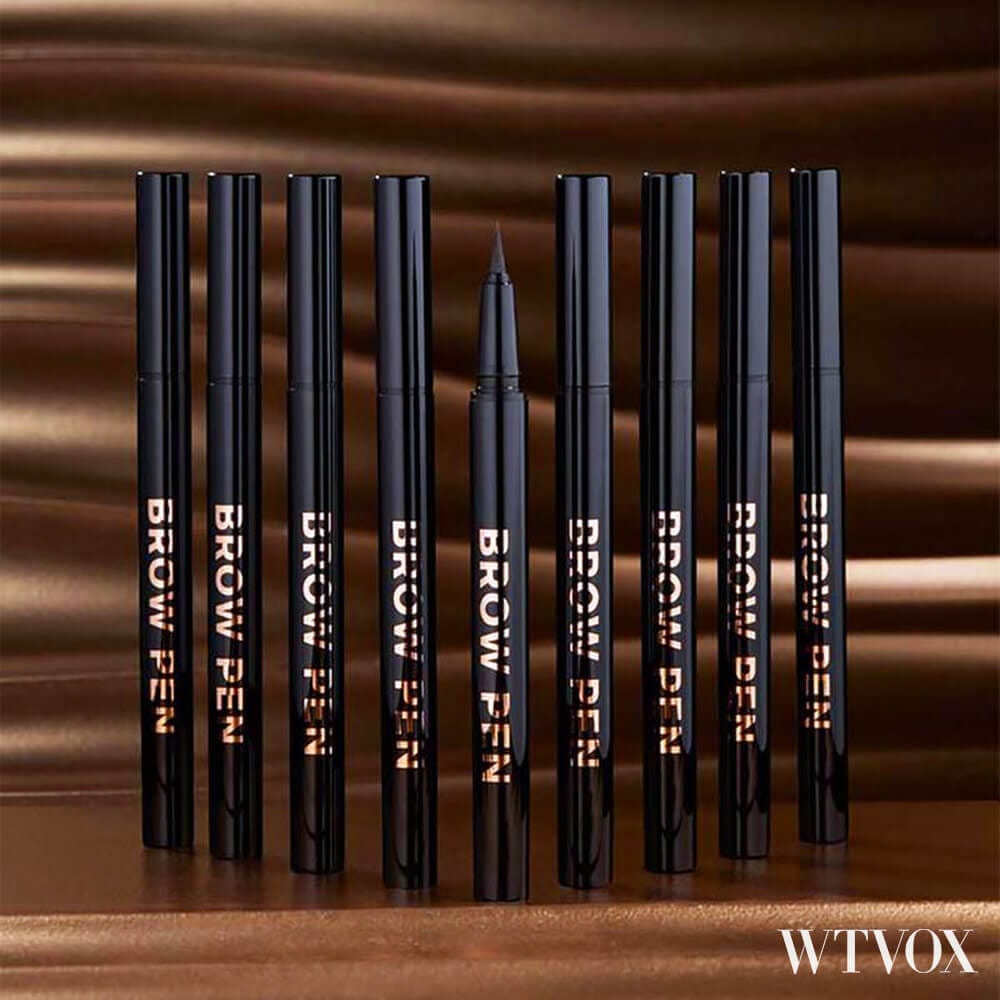 The abundance of powder shades on ABH's tray makes it an excellent choice for anyone looking to stretch the creative limits of makeup artistry.
To put all of this goodness to work on your skin, you'll need some equally excellent brushes, from them as well.
Firm or flat, ABH's vegan makeup brushes are to kill for.
So much so, that Anastasia Beverly Hills products have become a staple to cruelty-free and vegan makeup experts.
I personally love their 'Brow Wiz', find them the best of everything I've tried so far.
28. Dear Dahlia
Very often, the word vegan conjures a budget look or cut-rate alternatives.
But, that's not the case with Dear Dahlia as everything here, from the packaging and the richly-pigmented formulas, shouts luxe with confidence.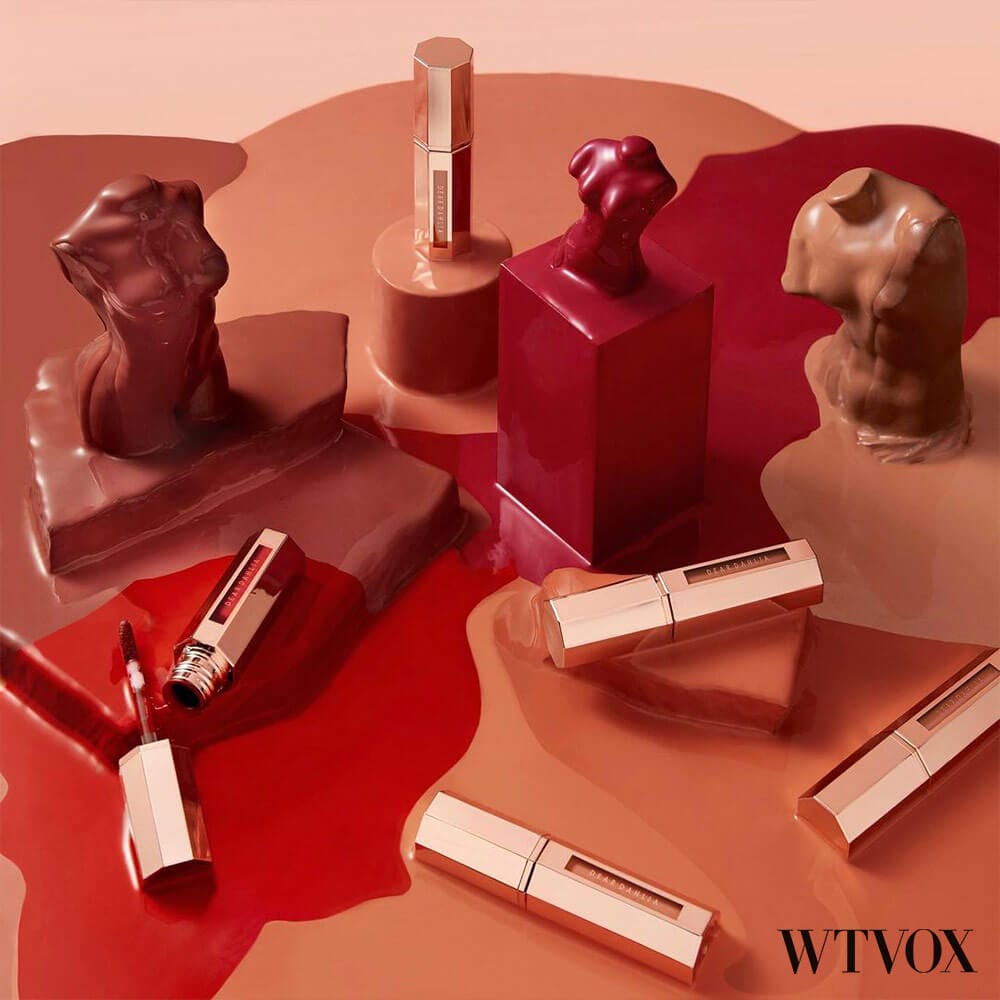 While the packaging might look similar to a specific BadGal's collection, all Dear Dahlia's cosmetics are vegan without compromise.
The brand's dual palettes come with a mirror, two eyeshadows, and a multi-balm to swipe across cheeks, eyes, and lips as you wish.
29. Haus Laboratories
Recently launched by pop star Lady Gaga, Haus Laboratories has gained lots of fans with its 100 percent vegan and cruelty free products.
Gaga's inspiration for the line came from when she was young and discovered that makeup made her feel like a "superhero."
With quirky names like 'Chained Ballerina' and 'Rose B.tch', the brand includes eyeliners, lipsticks, and eyeshadows.
Prices are mid-range to expensive, but this brand gives you a unique occasion to get a taste of Gaga's imagination and creativity.
30. By Terry
There's so much to talk about By Terry, a unique cruelty-free and vegan makeup brand.
First, the brand's 'Terrybly Densiliss' collection is exceptionally luxurious and equally expensive.
However, it is definitely worth the treat as this makeup brand tops the ranks with all cruelty-free stylists I know.
31. Charlotte Tilbury
Founded by the makeup artist Charlotte Tilbury, this is a stunning high-end cruelty free brand from the U.K.
Their products are high-quality, and the price point reflects that.
While Charlotte Tilbury is very popular in the U.K., U.S. customers can find their makeup at Nordstrom.
I personally love their Tinted Brow Gel Matte Revolution Lipstick, free from animal derived ingredients.
32. Cult Candy Cosmetics
As well as making moves to become more ethical, beauty brands are becoming more inclusive too.
It comes as an acknowledgment that men too, not just women, love to experiment with makeup.
A nominee in the ASOS Beauty Awards, Cult Candy Cosmetics is built around the core belief that makeup is for everyone, whether they identify as him, her, or non-binary.
But be warned, this label is not for shy types.
Palettes feature the sort of Day-Glo hues D.C. Comics' Harley Quinn would kill for, but don't let that scare you off.
There are a few more sober options for those who want to dabble in color too.
I've got my eye on the bubble-gum pink liquid lipstick that dries matte; the perfect color to cheer me up on a grey day.
33. MUA
MUA has always been committed to bringing the masses cruelty-free beauty.
However, only recently the label has updated its entire collection to become 100 percent vegan.
M.U.A. is the place to go to for quick thrills – I love the incredible 20-shade eyeshadow palettes.
Oh, yes; it doesn't' hurt that the products are tantalizingly cheap either, as prices rarely nudge beyond a tenner.
34. Avril
Avril is a French bio cosmetics and make-up brand with high-quality products at affordable prices.
The label produces make-up, nail polish, hair care, baby products, accessories, and body products, all free from animal materials.
Plus, all Avril products have EcoCert organic certification.
35. Florence by Mills
At a budget-friendly price, this label started as 'beauty for Gen Z-ers' full of gentle and softly enhancing colors.
However, Florence appeals to customers across the board, thanks to the highly wearable palette of cheek and lip colors.
The brand was launched by Millie Bobby Brown, a Netflix Originals star whose 'girl-next-door look' has won fans across the world.
Florence is not only a committed vegan brand, but it's also suitable for all skin types.
All products are dermatologically tested, infused with vitamins and botanicals, and free from irritants such as parabens, sulfates, and synthetic fragrances.
If you're not sure what to try first, I recommend the Cheek Me Later Cream Blush, available in six colors.
You can use it sparingly on cheeks or dabbed onto the lips for a fresh, rosy glow.
36. Nyx Cosmetics
Nyx is a 100 percent cruelty free makeup line with a large selection of vegan products as well.
The company believes in providing affordable pro-level makeup, up to date with current beauty trends.
I love their 'Lip Lingerie' liquid lipsticks and the 'Can't Stop Won't Stop' contour concealer.
Moreover, the brand offers how-to makeup tutorials for beginners and training cases for professional makeup artists.
37. Becca Cosmetics
Looking for 'forte' vegan makeup and beauty products? Try 'Glow Makeups' by Becca.
Becca Cosmetics is known for its wide range of cruelty-free makeup complexion products ready for all types of skins.
The label's foundations come in well over a dozen shades, ranging from light hues to darker ones who seem to be very popular with black women.
Becca's Bronzers are available as pressed powders, body oils, and mousse.
But, perhaps the most cherished of these cruelty-free makeup offerings is the 'Shimmering Skin Perfector Pressed', a powder highlighter with five finishes.
38. Youth to the People
Even the most doubtful shoppers have something good to say about 'Youth to the People' brand.
The brand is 100 percent vegan and cruelty-free and follows E.U.'s strictest standards of 'skincare safety'.
E.U. is much more stringent than the F.D.A.'s rules in the U.S.
The label has a deep commitment to sustainability, including using glass for all its packaging.
On top of all that, the products deliver.
The 'Superfood Cleanser' has a devout following for its gentle cleansing power that packs skin with antioxidants.
The 'Superberry Hydrate + Glow Dream' mask is a newer launch but is equally beloved for its calming and hydrating power.
39. K.V.D. Vegan Beauty by Kat Von D
Creation of the tattoo artist with the same name, Kat Von D Beauty stands out from all vegan beauty companies out there.
That's mostly thanks to the active pro-animal welfare activism that made her loved by all conscious makeup lovers.
Loved by animal organizations and consumers from all over the world, the designer wants to make the use of cruelty-free makeup a daily occurrence, like brushing your teeth.
With a wide range of ethical and vegan beauty offerings, some of the most wanted products are the 'Shade and Light Eye Colour Palette'.
I also love them for their neutral, warm, and cool tones based on four shades: base, contour, highlight, and define.
Another one that buyers want very much is the 'Lolita Eyeshadow Palette', featuring matte shades you can mix and layer if that's what works for you.
There's one more to Kat Von D Beauty: the 'Lock-it Foundation', a glow product that keeps your makeup waterproof and transfer-resistant.
40. Lime Crime
Lime Crime is a 100 percent vegan and cruelty free makeup brand that promises to transport you to a magical world.
Besides offering a full-range makeup line, they also provide vibrant full-color hair dyes.
The brand's most rated products include the 'Venus palettes' and 'Diamond Crushers' lip toppers.
Actually, they do look like crushed diamonds on your lips!
With an overall brand aesthetic that evokes rainbows and sparkles, you'll feel like a unicorn wearing this makeup.
41. Cover FX
Victor Casale is a founding partner of M.A.C. cosmetics, one of the world's biggest makeup brands.
Cover F.X. was born from the founders working in a lab in a women's college.
They created formulas to help with skin conditions like eczema, burns, rosacea, and psoriasis.
It then grew into a full-fledged vegan cosmetics brand that's dermatologist approved.
The company has 40 shades across all its products to suit all skin tones.
It uses 'clean ingredients' such as green tea leaves and aloe instead of mineral oil and fragrance.
Must-haves include the 'Pressed Mineral Foundation' and 'Illuminating Setting Powder'.
42. Soap and Glory
Of all the brands on this list, Soap and Glory covers the most ground on the spectrum of conscious beauty, and personal care products.
There's always something for you to use from shampoos and hair treatments to skin moisturizers, without afraid of harming animals.
From the entire Soap and Glory cruelty-free makeup line, some products stand out with ease:
Soap and Glory' Lip Plumping Gloss' for its plant oils infusion and fantastic shine.
The 'Cream Colour blusher,' for the superb, rare shades.
The 'All is Calm' concealer that's containing anti-blemish agents that also keep your skin-tone even.
Also, a well-deserved mention is Soap and Glory's 'Flash Effect Extension Mascara'.
Super rich in vitamin-E this cruelty-free makeup strengthens eyelashes and gives them the right curl for an irresistible look.
43. Axiology
Are you looking for stop-traffic makeup brushes and vegan lipstick?
Look no further than Axiology, where luxe matte finish color is the order of the day.
All products are formulated with leaf-derived candelilla wax rather than beeswax, designed to keep your lips hydrated and plump.
What's more, the collection is free of parabens, petrochemicals, and animal testing while managing to be completely organic too.
Conclusion
The ethical living movement is changing the way people choose the products they consume.
Yes, there were times when 'good for me' meant 'within my budget.'
But that mentality is changing.
Nowadays, even if money is still an issue, more people show interest in the products they're going to buy.
Some of the most questions are:
What's the origin?
What about the working conditions of these people?
What's the brand's carbon footprint?
Where any animals hurt in the process?
With hope you've enjoyed my coverage of the best vegan and cruelty free makeup brands of 2020, I invite you to share your most loved brand and tell us why.