Looking for sustainable, eco friendly, and vegan makeup brands? Here are the best from the top 5 ethical beauty brands.
Did you know that beauty can be a force for good, but it relies upon you?
As a beauty aficionado, you care about conscious choices but might feel overwhelmed and confused about which brands to choose.
The Ethical Beauty Landscape
We are currently in a revolutionary time.
With the rise of green beauty, there are hundreds of brands you can choose from.
Correspondingly, we don't just buy skincare and makeup anymore.
What we buy is the way a brand makes us feel.
Or the way it might help us become the best version of ourselves aesthetically, but also ethically.
Because of the transparency social media has created, we are more conscious of where our money goes.
We know more about outdated and cruel practices, such as animal testing.
Coupled with information about different health risks stemming from the ingredients of our serums.
Or, negligent treatment by those that only seek profit.
This has led to a need for correction and balance.
As a result, consumers are desperately calling for transparency and looking at what brands represent.
Not only on the way their products perform.
A brand needs to show us character and integrity to stand out from the noise.
Because true, long-term change requires a soul-connection.
So, here are 5 brands that are doing exactly this, whilst maintaining a reputation for providing some of the best products in the international beauty market.
1.HOURGLASS COSMETICS
Hourglass Cosmetics is the epitome of luxury in the ethical beauty space.
This conscious beauty brand is a celebrity and makeup artist favourite.
Certainly due to their sophisticated packaging that resembles Chanel, to innovative ingredients and high-performing products.
The best part? Their love for our furry friends.
For one thing, Hourglass has been cruelty-free since its inception in 2004.
On top of that, by 2020 their entire range will be classified as vegan.
Their integrity as a brand goes far beyond the basic certifications.
They actively donate 1% of all of their profits to the Non-Human Rights Project, an organisation that works through education, legislation, and litigation to fight for basic animal rights.
Furthermore, their Eye-To-Eye Campaign aims to remind consumers that animals are exactly like us (in that they feel love, pain, and fear). Indeed, the campaign has been a game-changer in sparking consciousness online.
Certainly, our pets are no different from lab animals.
And we all need to fight against this cruelty at all costs.
2.OKOKO COSMETIQUÉS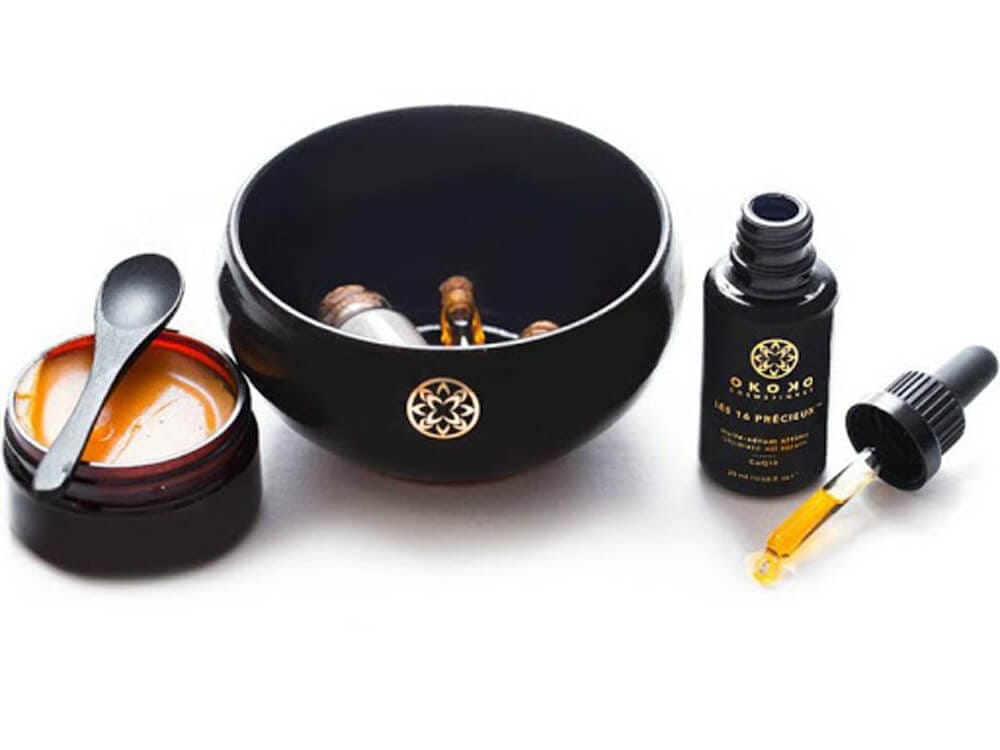 Okoko Cosmetiqués is a multi-award winning conscious skincare brand established in Canada in 2016. For the most part, the company strives to break the stereotypes around the limitations of natural beauty.
The company owner, Oyéta Kokoroko, is the head formulator. This means their unique formulations are clean and health-focused, giving the range a very personal feel. Besides being cruelty-free, the range is partly vegan-friendly and entirely eco-friendly. Not to mention, their packaging is biodegradable, and they only partner with fair-trade and ethical suppliers.
For example, their efforts within their immediate community include incentives with the Food Token program as well as the Betty Night Society. This helps impoverished women with food coupons and complimentary facials. Okoko continues to offer their time, support and funds towards many collaborations like that.
Finally, they recently launched the Okoko Academy – a platform to empower and support beauty entrepreneurs from ethnically-diverse backgrounds. The Academy's aim is to create opportunity and positive impact within the beauty industry.
3.BELLA VIDA SANTA BARBARA
Bella Vida SB, meaning "beautiful life", is another fairly young, conscious beauty brand that's already making waves. Their mission is to make women understand that "Beauty begins inside".
Bella Vida is 100% vegan and certified Cruelty-Free by Leaping Beauty. They recently signed a petition with approximately 300 other beauty companies to stand against animal testing practices in the US.
Their Zero Waste Refill Program rewards their consumers for refilling their original jars and bottles. This results in customers receiving a 40-50% discount on full-priced items. Additionally, they have a wellness store online. There, they constantly add zero waste products to help their customers live a more sustainable lifestyle, and simultaneously protect sea life from plastic pollution.
To sum up, their passion and ongoing collaborations with other companies to protect our oceans is nothing short of impressive. You'll find their products on various respected online stores and websites that strictly stock sustainable fashion and beauty.
4.THE BODY SHOP
The Body Shop has undoubtedly been a leader and a change-maker when it comes to ethical beauty. In fact, their ground-breaking campaigns have enabled changes in legislation in key areas, such as animal testing, domestic violence, and human trafficking.
Furthermore, this conscious beauty brand was at the forefront of fair trade in the beauty industry. They have 31 community trade suppliers in 23 countries. In turn, this has created positive benefits for almost 13,000 people already.
Additionally, their 'Enrich Not Exploit Commitment' and Community Trade Program have worked hand-in-hand to create opportunities for local communities around the world.
Perhaps one of the most impressive international cruelty-free campaigns – Forever Against Animal Testing – spans over 30 years of work with Cruelty-Free International. Notably, in October 2019, the Body Shop took over 8 million signatures to United Nations HQ in New York, pleading a global ban on animal testing in cosmetics.
As seen, this brand didn't just make history – they have transformed the ethical beauty landscape entirely.
5.URBAN DECAY
Urban Decay describe themselves as "bad-ass, cruelty-free, high-pigment makeup" brand. Highly relatable and loved by makeup professionals, their primary focus is to increase self-confidence and drive creativity. Also 100% vegan, their motto remains: "kindness over cruelty." Besides being PETA and Leaping Bunny certified, they actively fight for a global ban on animal testing.
Interestingly, they showed true commitment to this cause back in 2012. That's when they were faced with an ethical dilemma. Within just one month of a costly expansion into the Chinese market, they became aware this equalled contributing to compulsory animal testing.  They then decided to exit the Chinese market after only one month. Their values were non-negotiable and took precedence over profits.
Furthermore, this brand also empowers women to tap into their unique beauty through their various projects. Their latest campaign is all about breaking beauty standards to celebrate individuality.
In the hope of fighting for women's rights globally and raise $3 million in 5 years, they launched The Ultraviolet Edge initiative in 2015. So far, they've donated $1.28 million to this cause. On top of that, 100% of the profits from every Urban Decay Fix Eyeshadow Primer Potion (an international bestseller) go towards literacy programs and micro-loans for Ugandan women. They also help abused women in NYC with legal rights.
Bottom line? 
In short, all of these brands show that real beauty is far from shallow. And it is never cruel. Because of those conscious beauty brands, we don't need to compromise on our standards. Or the quality and efficacy of the products, in order to choose ethically. Whilst there is still much work to do, you can be a force for good by being more conscious in your daily decisions. If a brand is going to leave a positive footprint and a legacy, it deserves your attention and support.
Weekly Newsletter. Sign Up Now!
Celebrities, designers, and latest news in sustainable fashion.
If you want to stay in the know with the latest trends and styles from the world of conscious fashion, follow @WTVOX on Instagram, Twitter, Facebook, and all other social media platforms.
You can also join the Future of Fashion Group for daily engaging discussions on fashion innovation, where the fashion industry is going, and finally, make sure you subscribe to our newsletter for lightning-quick updates, delivered directly to your inbox.